1000kg rice mill machine dry rice grinder machine
1. Product introuction of dry rice grinder machine
dry rice grinder machine is best the manufacturer for different rice milling machines in China, the 18-300ton/day complete rice mill machinery and different kinds of machines like husker, destoner, rice grader, paddy dryer, etc,and rice from the machine can meet the quality of import & export requirement. We also start to develop the rice milling plant and installed successfully in Nigeria, Thailand, India, Sri Lanka, Indonesia, Qatar and so on.
Specification of dry rice grinder machine
| | |
| --- | --- |
| 1. Model | SD-RM12 |
| 2. Capacity | 1000-1200kg/h |
| 3. Power | 24kw, 380v, 50hz |
| 4. Broken rice rate | 2-3% |
| 5. Operation | automatic |
| 6. Functions | cleaner--destoner--rice husk--rice separator--rice whitener--rice grader |
2. Components of dry rice grinder machine
| | |
| --- | --- |
| Necessary unit machines | 1 piece |
| 1) ZQS85 combined cleaner | 1 piece |
| 2) MLGT25 husker | 1 piece |
| 3) MGCZ 100x7 gravity type paddy separator | 1 piece |
| 4) MNMF 18C rice whitener | 1 piece |
| 5) MNMF 14B rice whitener | 1 piece |
| 6) MJP80X3 white rice grader | 1 piece |
| 7) Elevators | 1 piece |
| 8)Electrical control cabinet | 1 piece |
3. Feature of dry rice grinder machine
1) Compact structure and nice performance;

2) Modern design and high efficiency output;

3) Low noise and consumption;

4) Easy to operate and maintain;

5) High output and low broken rate;

6) Output rice with high quality;

7)Reasonable Price
4. Main pictures of dry rice grinder machine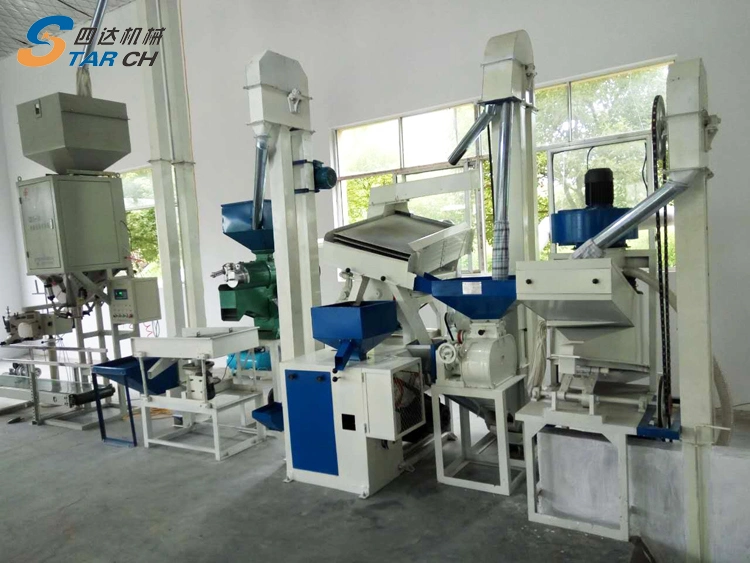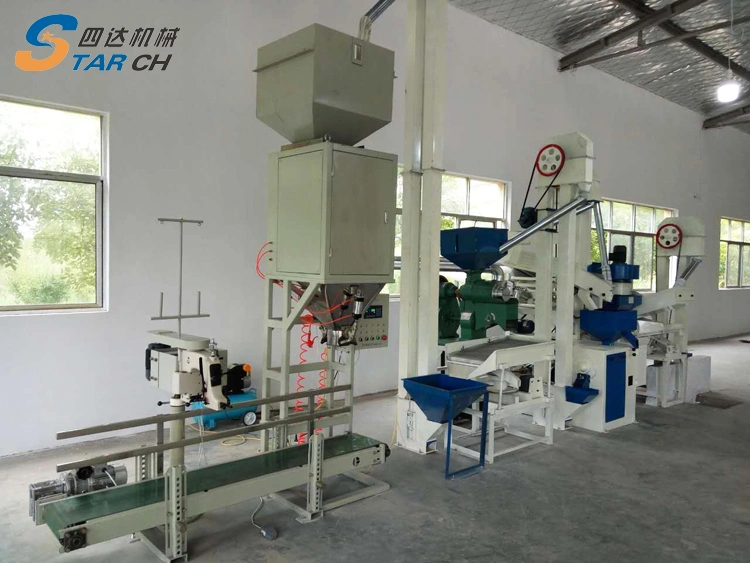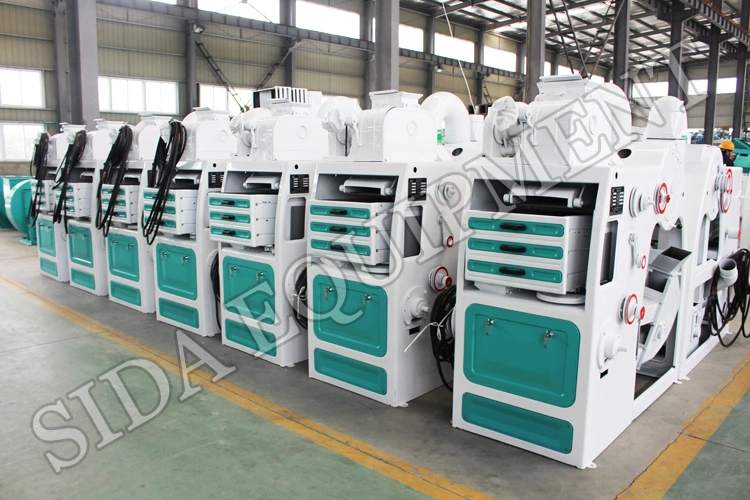 5. Packaging and shipping of dry rice grinder machine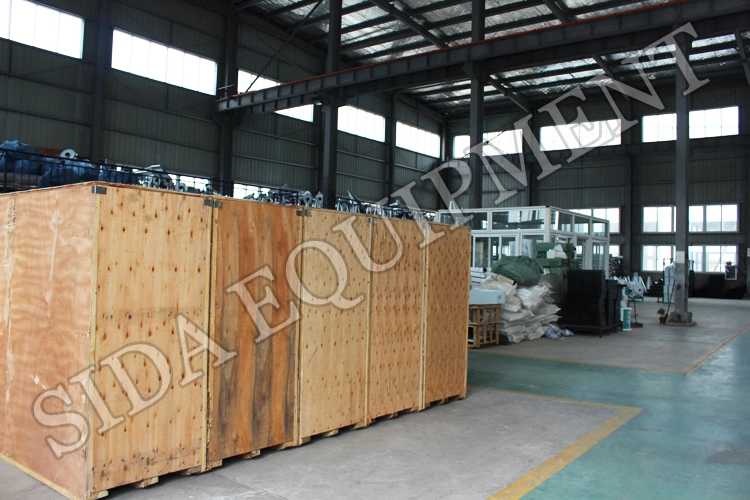 6. Company information
Zhengzhou Sida Agriculture Equipment Co., Ltd are one professional manufacturer of cassava starch processing machine, cassava flour processing machine, cassava peeling machine, garri processing machine, cassava planter, cassava harvester, potato starch processing line, sweet potato starch processing machine, oil processing machine, rice milling machine and so on.
We have many years experience in manufacturing the equipment for the starch processing, use high quality raw material at home and abroad, equipped with advanced production equipment(Imported CNC pulse TIG welder, CNC folding machine, CNC bending machine, CNC punching machine) produces various types of pressure song sieve, sieve gravity song, cyclone starch, modified starch cyclone, air drying machine, crush machine, washing and crushing machine. These machine have been 10 national patents, which has a breakthrough, especially in washing, crushing, separation of starch for cassava, potato.
The company have a number of industry experts and professional designers, we can do design, installation, commissioning, training worker for our products, and have been successfully serving the many factory in China and abroad. Our equipment are mainly exported Nigeria, Angola, Gabon, Cameroon, Ghana, Congo in Africa, Malaysia, Indonesia, Vietnam, Thailand in Asia and Brazil, Colombia and so on.
In recent years, the company are focus on new product development and improve the products quality, establishment of a comprehensive quality assurance system. In addition to starch equipment, we also have produce and sale experience in oil processing machine and rice milling machine. The special production processing not only ensure good quality, low energy consumption, but also makes the system easy to operate and maintain.
Welcome to China, welcome to visit our factory. Hope we can build long term business relationships.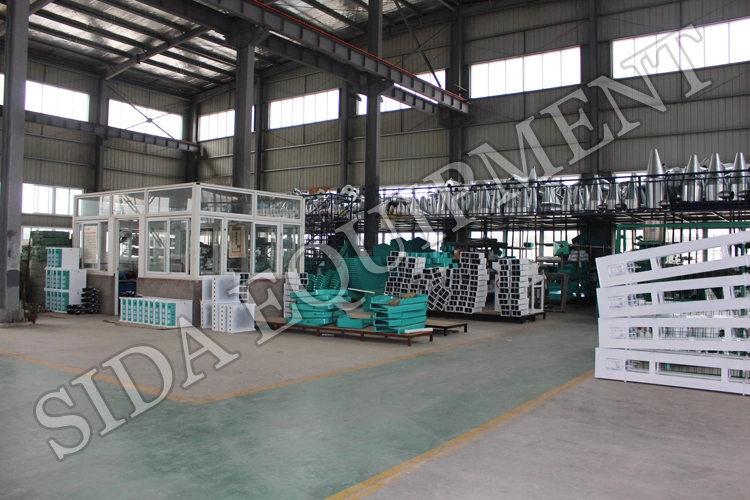 7. Our service of dry rice grinder machine
Pre-sale service of dry rice grinder machine
1. Accept customer consultation, We will offer solutions according to customer requirements, determine the scale of operation;

2. To provide customers with project design, process design, suitable for your machine equipment plan formulation of choose and buy, in a timely manner to provide customers with related technical documents; According to your special requirements, design and manufacture of products, for your training technical operation personnel for preliminary design and construction design.
Service of dry rice grinder machine
1. The company sent technical personnel to the scene of the on-the-spot guidance equipment installation, debugging and training operators

2.24 hours 24-hour telephone service , holiday service as usual.
After-sales service of dry rice grinder machine
1. Phone support: refers to the customers in the use of equipment of difficult problems in the process or equipment in abnormal state, by telephone or by fax to the company for technical support and help. Company after confirm the customer's service request, will arrange technical personnel within the prescribed period of time (i. e., response time) by phone to help fault locating the demand side, and put forward solutions, guide customers to exclude equipment failure in the end.

2. If you can't fault diagnosis by phone and solve the failure phenomenon, will immediately send technicians to the scene, eventually to solve.

3. The company's products provide a year warranty, life-long maintenance.