crushing equipment crusher ,various types of high efficient stone crusher,crushing equipment crusher

I. CGF Series Impact crushers, stone pulverizing machineI. CGF impact crusher
CGF impact crusher
are widely applied in metallurgy, building materials, chemical industries. They are ideal for crushing medium hard brittle materials of coarse, secondary and fine crushing stages, such as limestone, dolomite, sandstone, graphite, rock salt, granite and basalt. CGF series impact crusher have high reduction ratio, unequaled output, uniform production size, compact process, simple construction, easy operation and maintenance.
II. CGF impact crusher, stone pulverizing machine working principle
CGF impact crusher are made of main frame, rotor, front blow bar and back blow bar. Each gyrating cycle is formed by V-belt driving rotor through electronic and materials are crushed by high speed impact of flat hammer on gyrating rotor. After that, the materials are crushed again by throwing impact liner and then crushed again from impact plate to flat hammer. This process works again and again until materials are crushed to qualified size. Materials will keep going back and forth between the first and second crusher chamber untill the crushed ore size is less than the gap between flat hammer and blow bar. then, they will discharge through the setting below the machine as final the product.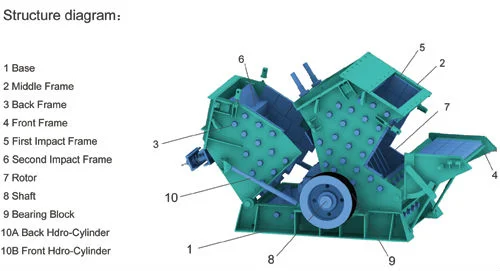 III. CGF series impact crusher, stone pulverizing machine design principle
CGF impact crusher have unique design, no key links, outstanding reliability and focus on safety and low energy consumption. Perfectly design combination of heavy rotor, wear resistant and chamber will not only increase yield and quality but also decrease cost and wear resistant parts consumption. The unique fixed equipment of flat hammer makes more reliability of flat hammer. There is a spring release system in the impact equipment can guarantees safety as an overload protection system(Ex:when an iron ore enter into the chamber accidentally). Larger chamber, bigger feed size and increased rotational inertia of rotor means higher reduction ratio, more output and cubic size products. Flat hammer fixing on the rotor through a set of wedges makes bigger torque tightening. There are many clamp spots between flat hammer and rotor which can eliminate the gap between rotor and flat hammer and decrease the damage rate of flat hammer. Using high quality wear resistant parts such as high chromium cast iron increases the service life of wear parts (such as flat hammer, impact liner, sided liner). Using hydraulic controls to open front and back main frame and adjust setting can simplifiy the exchange of flat hammer and adjustment of discharge size. Safety doors on the two sides of the main frame are used for check, maintenance and exchange of wear parts.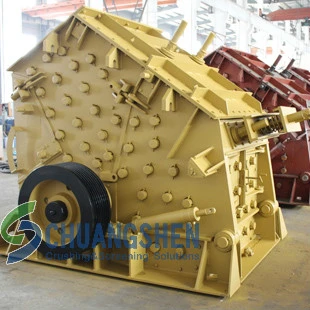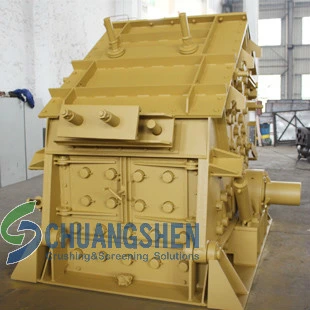 Model
Rotor Diameter
(mm)
Rotor Length
(mm)
Max Feeding Size
(mm)
Capacity
(t/h)
Eccentric Shaft Revolutions
(r/m)
Power
(kw)
Weight
(Excluding Motor)(kg)
Over Dimensions
(LxWxH)(mm)
CGF1008
1000
800
200
55~85
500~750
55~75
10184
2858x2508x2470
CGF1313
1280
1340
200
130~200
500~700
132~200
19800
3210x2730x2545
CGF1515
1540
1500
300
250~350
470~560
280~315
30000
3200x3082x3036