Introduction:
The cs spring cone crusher from special manufacturer is widely used in the fields of metallurgy, construction, hydroelectric project, transport, chemical industries and building materials for crushing all sorts of hard and above medium hard ores and rocks
Cone crusher consist of frame, transmission device, hollow eccentric shaft, bowl-shaped bearing, crushing cone, springs and hydraulic pressure station for adjusting discharge opening.During operation, the motor drives the eccentric shaft shell to turn around through ahorizontal axle and a pair of bevel gear. The axle of crushing cone swings with the force of eccentric shaft shell so that the surface of the crushing wall is close to the roll mortar wall from time to time.
Feature

:
--Cone crusher has high design and manufacture quality long service life convenient repairing , lower cost . All of the maintenance work can be done easily on the top of the machine .
--New generation high performance cone with advantages of high capacity, cubicproduct shape high yield with desired fines
--Equipped with fully hydraulic system.Therefore operation is very easy; especiallytramp iron release is very quick and sensitive
--Cone crushers with different chambers are available, to meet our customers' requirements.
--As the overload protection device, spring safety device allows foreign matter and iron pieces to pass through the crushing chamber without jeopardizing machines.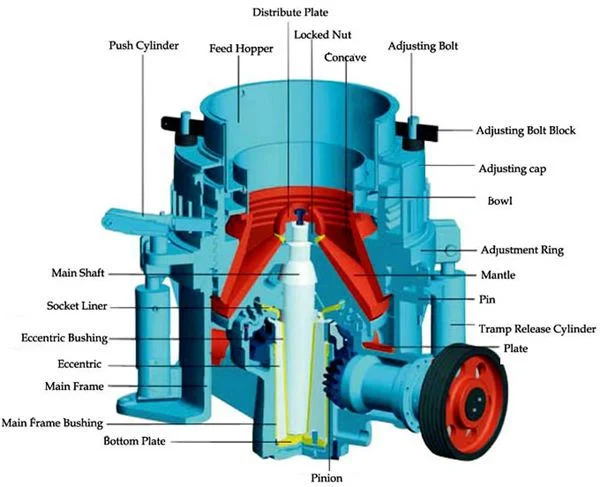 Technical Parameters
N

O.

Model

Dia of cone
(mm)

Cavity

Feed opening size
(mm)
Output size
(mm)
Mainshaft
rotation
speed
(r/min)
Driving Power
(kw)
Capacity
(t/h)
Weigh
(kg)
Appearance
size
(mm)

Closing size

Opening size

1

CSB75

900 (3)

Fine

83

102

9-22

580

75

45-91

15

2821×1880×2164

2

Coarse

159

175

13-38

59-163

3

CSB110

1200
(4)

Fine

127

131

9-31

485

110

63-188

20

2821×1974×2651

4

Mediun

156

156

13-38

100-200

5

Coarse

178

191

19-51

141-308

6

CSB160

1295
(41/4)

Fine

109

137

13-31

485

160

109-181

27

2800×2342×2668

7

Mediun

188

210

16-38

132-253

8

Coarse

216

241

19-51

172-349

9

CSB220

1650 (51/2)

Fine

188

209

16-38

485

220

181-327

55

3911×2870×3771

10

Mediun

213

241

22-51

258-417

11

Coarse

241

268

25-64

299-635

12

CSB315

2134 (7)

Fine

253

278

19-38

435

315

381-726

110

4613×3251×4732

13

Mediun

303

334

25-51

608-998

14

Coarse

334

369

31-64

789-1270






FAQ




Q: Are you a factory ?




A:

Yes,we are factory, which was established in 2006.




We focus on providing expert service including design, manufacture, installation & maintenance for the logistic industries & warehouse equipment.




Q:

Terms of Payment:




A:

30% of the total amount by TT as deposit, the balance to be paid by TT or L/C at sight before the machines leaving seller' factory.




100% irrevocable L/C at sight.




Q:Time for preparation of goods:




A:

The above machines shall be ready for delivery during 45 days

from the date of receiving the deposit/LC, excl

uding the time of waiting for shipment. If there is any delay of delivery caused by seller, 3‰ of the total amount shall be paid to buyer each day, but this amount shall not exceed the amount of deposit; if the delay is caused by buyer, 3‰ of the total amount shall be paid to seller each day, but this amount shall not exceed 10% of total value of machines.




Q:Guarantee period:




A:

The guarantee period for the above machines is twelve months from the date of putting into use, but not exceeds twenty-four months after the machines leaving seller's factory. It is not applicable for quick wear parts.




Q: May I know the status of my order?




A: Yes. We will send you information and photos at different production stage of your order. Every step will be send to you in time.




Q: Can I customize shelving or racking at my own size?




A: Sure.




Q: If i need the complete mineral processing line. is

Baite

able to help us build it?
A:
Yes, we can help you combine a complete mineral processing line. and give you related professional advice as long as you need.
There is a rich experience engineer team of us. we had already build many mining projects in China & Overseas. You can believe our quality and service.
Why Choose us?
1.Pre-sale services: enthusiasm
We provide you with the prophase plan, process flow design and manufacturer equipment according to your special demand.
2.one-year warranty to make sure your machine runs consistently.
We always offering lifelong services and provide spare parts for a long term,and repair main parts under right using for free in two years.
3.Technical services
3.1 Design of production line and solutions according to buyer's requirement.
3.2 In 7 days after the receipt of deposit, the seller shall provide related technical documents for equipment installation,
in addition to those with special requirements.
3.3 Before delivery, the seller can modify the previous solutions according to buyer's requirement.
4.After-sales service
4.1 During the installation and commissioning, the seller shall send technician to the site for instruction of installation and commissioning, and for training of workers.
4.
2
If
there is any equipment f
ailure caused by the buyer, the seller shall assist the maintenance of machines and replacement of fittings, and charges appropriate fees.
4.
3
Beyond the guarantee period, the seller can provide services
and fittings at a most preferential price.
4.
4
The seller can provide consultation and inspection services freely for other products, especially for the up-stream and down-stream products of our equipment.