Application of Micro Powder Grinding Mill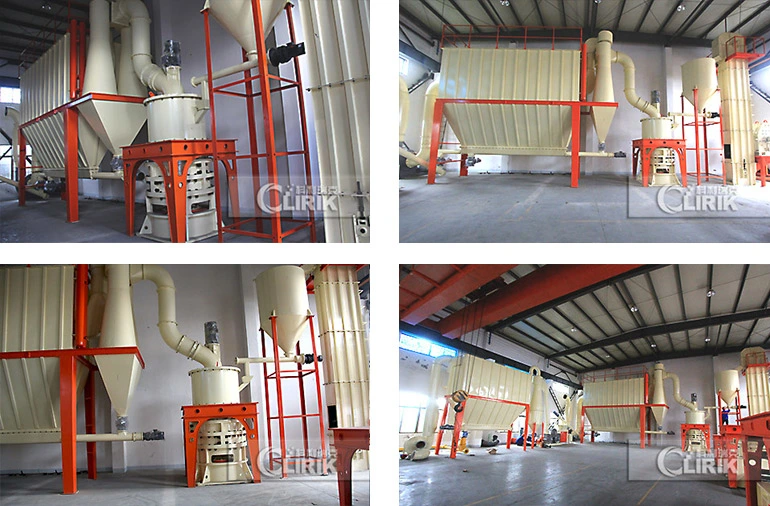 HGM Series Micro Powder Grinding Mill is the equipment specializing in producing fine and superfine powder of non-inflammable, non-explosive and brittle materials with Moh's hardness under nine, such as calcite, chalk, limestone, dolomite, kaolin, bentonite, talc, mica, magnesite, illite, pyrophyllite and vermiculite, sepiolite, attapulgite, rectorite, diatomite, barite, gypsum, alunite.





Features of Micro Powder Grinding Mill
High Efficiency of micro powder grinding mill
Under the same finished final size and the same motor power, the capacity of micro powder grinding mill is twice as much as jet mill, mixing grinder and ball mill, and energy consumption decreased 30%.
Long lifecycle of spare parts of micro powder grinding mill
The ring and roller are forged by special material with high utilization. Under the same grinding material and finish special size, the lifecycle of spare parts is about one year, which is 2-3 times longer than impact mill or turbo mill. Furthermore, the lifetime can reach 2-5 years for grinding calcite carbonate.
High safety and reliability of micro powder grinding mill
As no rolling bearings or screws in grinding cavity, there are no problems caused by bolts shedding or rapid wear of bearings and seal components.
High fineness, flexible adjustment, micro powder grinding mill
The final fineness of the grinding materials can be adjusted between 325 meshes and 2500 mesh (47-5 micron), and the product fineness can reach D97≤5μm.
Environment-friendly of micro powder grinding mill
The application of pulse bag filter and muffler greatly alleviates dust pollution and noise.
Advanced intelligent speed control device of micro powder grinding mill
Convenient adjusting, more uniform particle size.
graphite, fluorite, rockphosphate, Kalium ore, pumice, etc., totally more than 100 kinds of materials.

Certification of Micro Powder Grinding Mill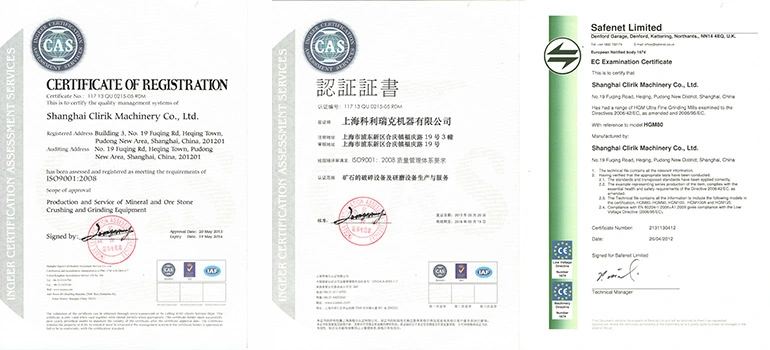 Marketing Concept of Clirik Machinery Co., Ltd.
We will do business with every client seriously with full care trying our best. We wish for your coming to our company for a visit when in need of confirmation, then we will pick you up by car in 30 minutes when you arrive at Pudong airport by airplane. And you will see our great strength in grinding mill manufacturing when our service personel show you around our factory workshop.
Best quality, competitive price, comprehensive service are with our product, and we believe our genuineness will also gain your trust besides our excellent grinding mill.
Welcome to consult for more information. We are extremely glad to help you.
Model
HGM80
HGM90
HGM100
HGM125
HGM1680

Ring Diameter(mm)

800

900

1000

1250

1680

Ring Number(layer)

3

3

4

4

4

Roller Number (piece)

18-21

24-29

28-36

30-40

30-44

Main Shaft Speed (r.p.m.)

230-240

200-220

180-200

135-155

123-130

Input Size(mm)

≤20

Finished Size (μm/mesh)

74-5
(200-2500)
74-5
(200-2500)
74-5
(200-2500)
100-6
(150-2000)
100-9
(150-1500)

Capacity (t/h)

0.5-4.5

0.6-6.5

1-9

2.8-20

5-45

Overall Dimension
(L*W*H, m)

13.9*4*6.2

14.7*4.8*7.2

18*4.6*8.6

14*9*10.25

26.3*7.5*11.9