Product Description
Multi Air Jet Mill Pulverizer Manufacturers Microning Wollastonite
The jet mill grinding system consists jet mill, cyclone, bag filter and draft fan. Filtrated, desiccated and compressed air is ejected into the grinding chamber through Laval nozzle, the material is crushed, rubbed and cut repeatedly at the joint of several high-pressure jet air flow and finally pulverized. Then, the material will be classified into different sizes under the centrifugal force and centripetal force. Qualified fine particles is collected by the cyclone and bag filter, while oversize particles will be rejected to the grinding chamber for regrinding.
Available particle size D50:0.5-10μm
Nano particle size is available.
Steam of working pressure 8-40 bar and temperature 230ºC-360ºC, both drying effect
Higher speed of steam results in higher kinetic energy, strong grinding force, high-speed jet nozzle exit speed can reach 1020m / s, can produce finer powder
Stronger grinding ability and energy, easy to achieve finer powder.
Compared with conventional jet mill, higher energy efficiency, lower operating cost.
The grinding process is completed by the collision of the materials themselves., Fully self-grinding, So The device is durable and the purity of products is high in contrast.
High speed and low viscosity, can achieve higher grinding efficiency and classification accuracy, reduce over-grinding, and obtain narrower particle size distribution.
Good particle shape and high activity.
The classifying wheel separates the material automatically with airflow, no coarse particles.
Key parts like inner liner, classifying wheel and nozzle are made of ceramic such as aluminum oxide, zirconium oxide or silicon carbide, ensuring non-contact with metal throughout the grinding for high purity of the final product.
Single or multi-classifying wheel are installed horizontally.
Speed of wheel is controlled by converter, particle size can be adjusted freely.
Grinding is in closed system, low dust and noise, clean and environmentally friendly production process.
PLC control system, easy operation.
Can be used for ultra-fine processing of high viscosity products.
The motor can be connected with a belt to increase the speed and break through the problem of high-speed motors without the well-known motor brand.
Can be used in series with multi-stage classifiers to produce products with multiple sizes at one time.
Weighing control system, high precision, optional, high product stability.
Optional explosion-proof design, can also be upgraded to nitrogen circulation system to meet the ultra-fine grinding processing requirements of flammable and explosive oxide materials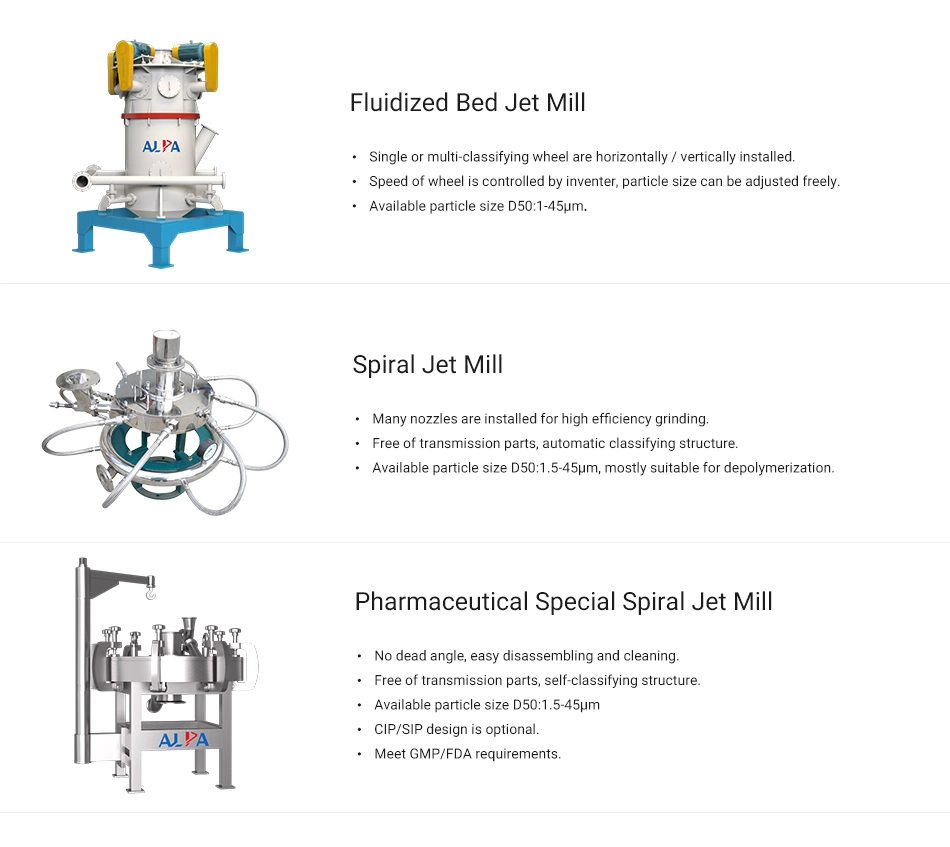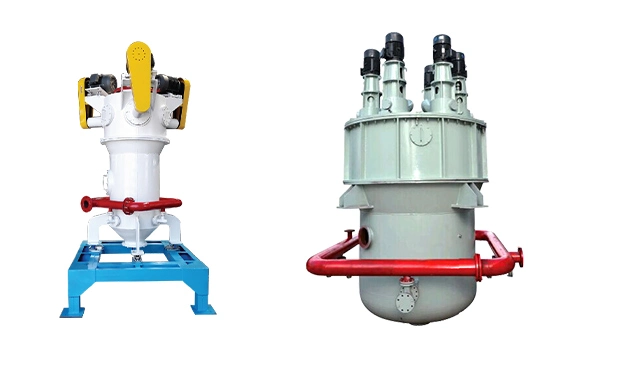 Applications and Parameters

Widely used in chemical industry, mineral industry, metallurgy industry, abrasive material industry, ceramics industry, fire-resistance industry, pharmacy industry, pesticide industry, food industry, health care industry and new material industries.

Parameter/
Model

MQW
03

MQW
06

MQW
10

MQW
20

MQW
40

MQW
60

MQW
120

MQW
160

MQW
240

Feed Size
mm

<3

<3

<3

<3

<3

<3

<3

<3

<3

Product Size
d97:um

2~45

2~45

2~45

5~45

5~45

5~45

5~45

5~45

5~45

Capacity
kg/h

2~
30

30~
200

50~
500

100~
1000

200~
2500

500~
3500

800~
7500

1000~
10000

1500~
15000

Air Consumption
m 3 /min

3

6

10

20

40

60

120

160

240

Air Pressure
Mpa

0.7~
0.85

0.7~
0.85

0.7~
0.85

0.7~
0.85

0.7~
0.85

0.7~
0.85

0.7~
0.85

0.7~
0.85

0.7~
0.85

Installation Power
kw

21.8

42.5

85

147

282

415

800

1100

1600
Cases
Over the past
20
years, there have been more than
3,000
customer cases.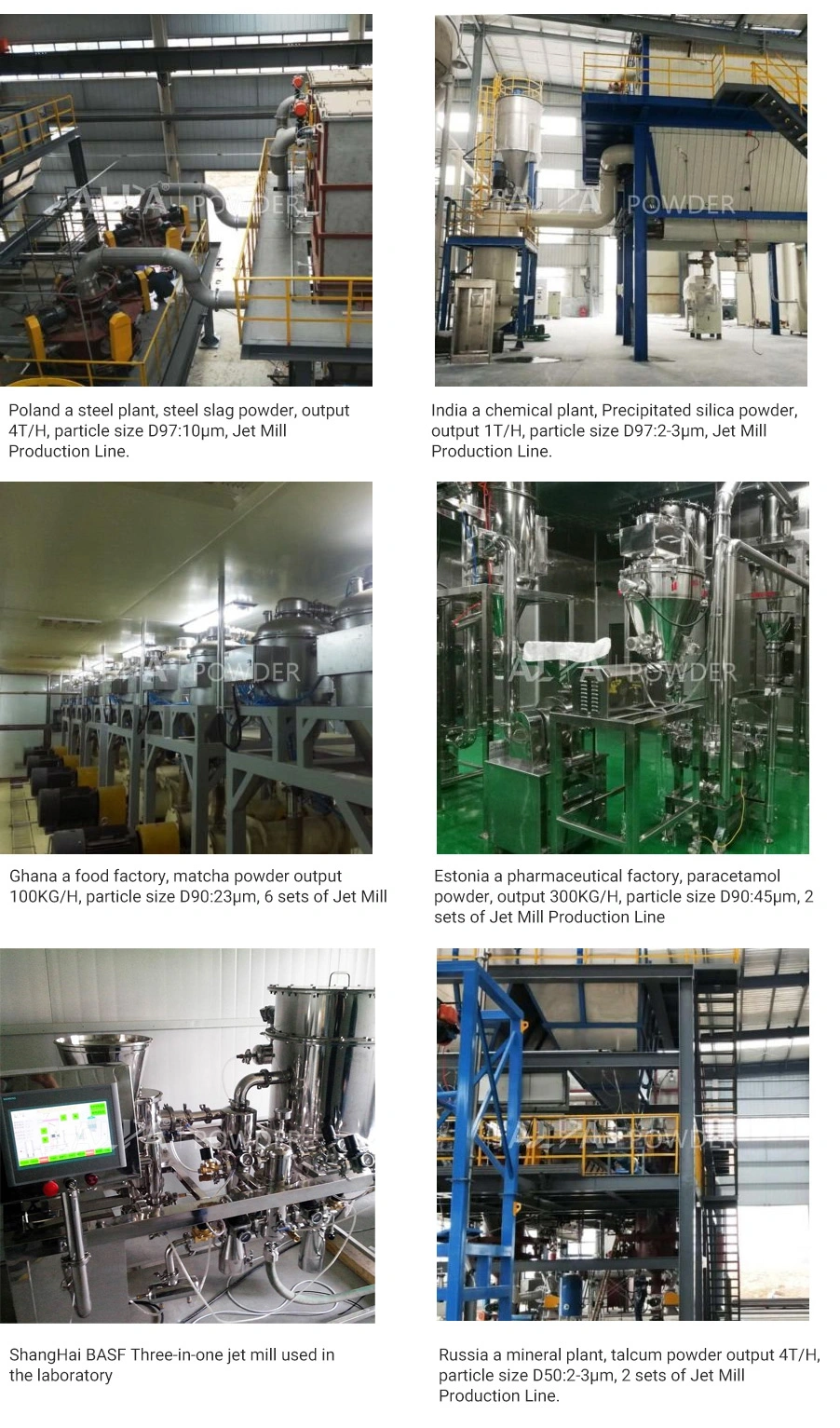 Who Chose US
37 World's Top-500 companies
89 China's Top-500 companies
169 key laboratories and engineering research centers
3000+ customers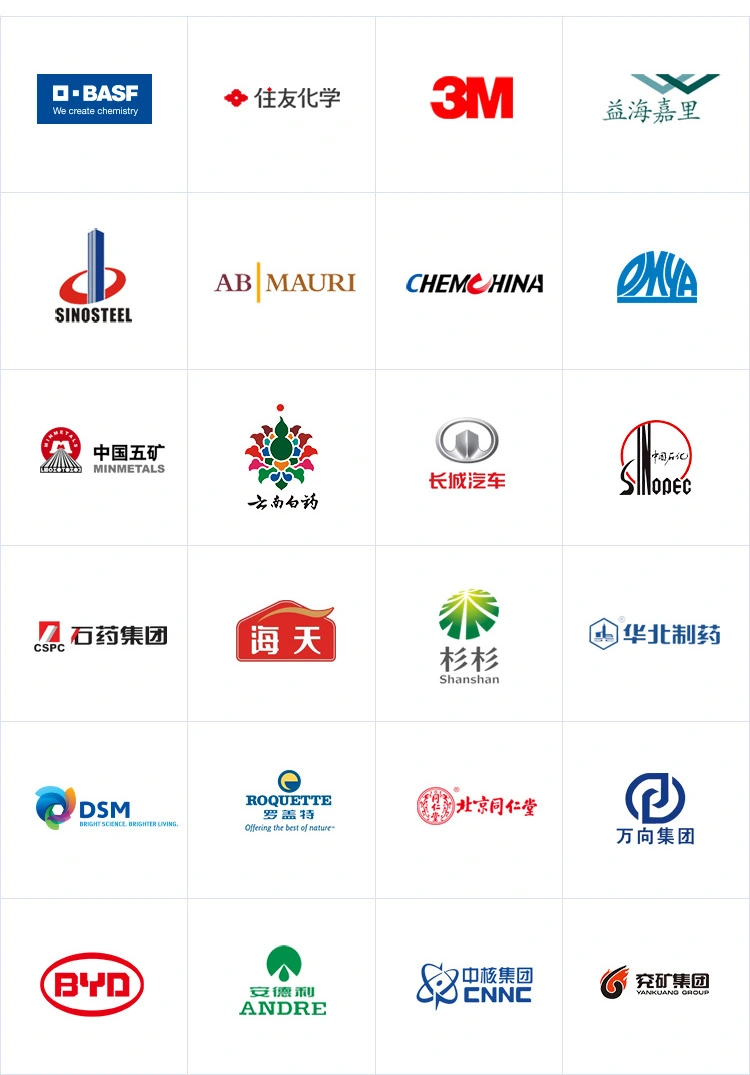 Our Company
Shandong ALPA Powder Technology Co., Ltd.
(abbreviation: ALPA / Equity Code: 171033)
THE WORLD'S LEADING SUPPLIER OF
ULTRA-FINE POWDER SOLUTIONS
ALPA was founded in 1999.Focus on ultra-fine ultra-pure crushing and classifying research, powder shape control, powder surface modification, and system integration of powder engineering equipment.
In the fields of ultrafine grinding and classification in the pharmaceutical, food, chemical, mineral, new materials, solid waste treatment and other industries, ALPA has mature and fully customized solutions and helps you design the ideal system to meet your needs.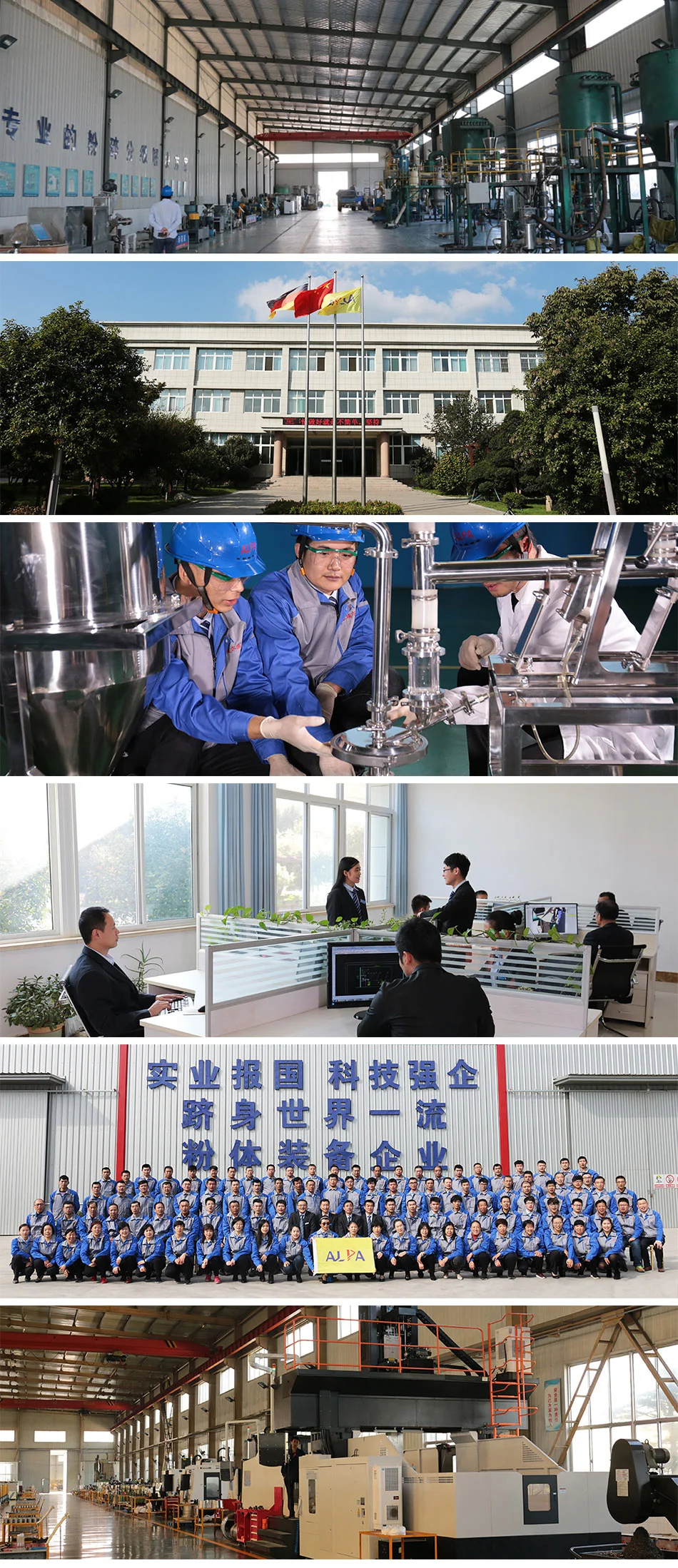 One-Step Turnkey Project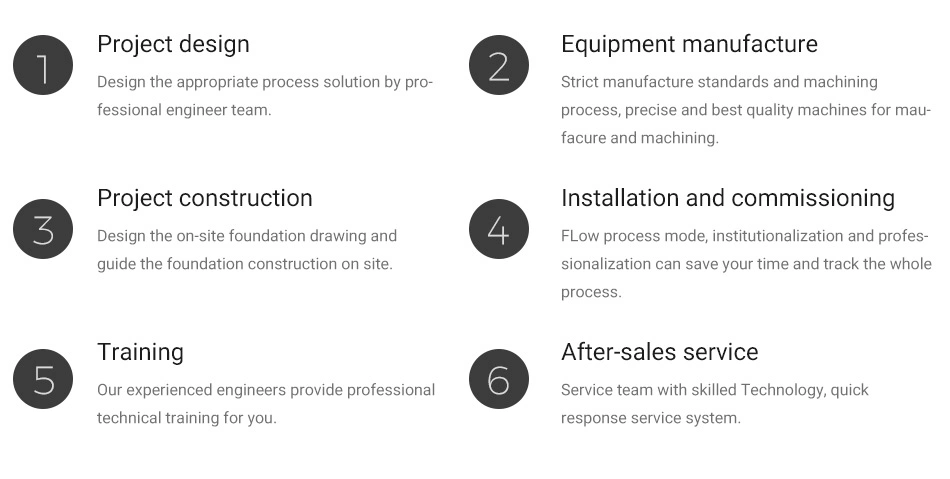 Patents and Certification
ALPA has been granted a lot of rewards from Chinese government related to Equipment and Technology.
ALPA has achieved more than 30 patents.