Super Fine Limestone
Grinding Mill

I.
Grinding mill's brief introduction.
Limestone grinding mill is a new-type grinding mill developed by our company for decades, combining rolling, impacting and grinding to one. It is an ideal ultrafine ground calcium carbonate grinding mill for deeply processing non-metallic minerals which hardness less than Moh's 5, such as
calcium carbonate, barite, talc, gypsum, calcite, limestone, calcium oxide, bentonite, dolomite etc.

The finished particle size can reach 325-3000 mesh(3.5-50 microns).
II. Grinding mill working principle.
When operating, the raw material is fed continuously from the input system into pulverizing chamber, the material will be fully pulverized after impacting, pulverizing, grinding and concussion by the grinding wheel; then the pulverized material is conveyed to the classifying chamber to be classified according to their particle size. The qualified particle will go into cyclone separator through grading wheel, and then go out to be product. A little unseparated powder will be collected by high-effective dust collector then putout to be qualified product. During this period, the whole system is working under negative pressure, the air which is cleaned by dust remover will go out through high-pressure air-introduced machine, and no dust will out to the air.
III.Limestone grinding mill's advantages.



1. Environment friendly without pollution: our grinding mill adopt the complete set of negative-pressure production and high efficient off-line deduster ,its dust collection efficiency reaches up to 99.9%,which guarantees no dust pollution during operation. Moreover, the main unit and the air blower are respectively equipped with the noise-reduction housing and the muffler so as to decrease the noise, which is completely in conformity with the national environmental protection standards.
2.The power distribution cabinet installment is automatic control: it can avoid human factor to make mistakes, guaranteeing the quality of product is stable, lengthening the service life of equipment, reducing the operators and the cost.
3.Installation of the complete set of equipment is convenient:No need large-scale construction, it covers only small area. It can be put into production as soon as we finishing installing. It can run smoothly and reliably. It is used for grinding non-metal mines with Mohs' hardness scale less than 5, moisture less than 3% and Max. input size 10 mm.
4.Both product size and fineness are guaranteed: the new limestone grinding mill is able to reach a product fineness of 325 mesh to 3000 mesh, while the traditional Raymond mill can only reach a fineness of 400 mesh for the most. It can be used for all kinds of grinding from coarse crushing to ultra fine grinding, with the largest fineness of up to D97
≤
3 micron, which drives the revolution in the field of ultra-fine grinding.
5.It has high-effective cyclone system and dust remover. The dust remover has excellent dust removing effect, it won
'
t be blocked. The product comes out from the cyclone system and the dust remover can do both separately packing or gather together then do packing.
6.The main body and its electrical machinery are installed separately to make sure the grinding machine can work more stable.
7.The grinding motor is controlled by a soft starter. By this can save powder and give a better protection.
8.The fineness of the product can be transformed quickly if you want to produce the different products in different particle sizes; the stability of the product is good.
9.Low investment cost and high output efficiency. Compared to ball mill, air-flow mill and stirred mill, our limestone grinding mill has the advantages of lower investment and shorter processing circle, and its finish fineness/efficiency ratio is more than twice that of the machines mentioned above for the same fineness.
10.Low maintenance cost and simple operation. Compared to Raymond mill, lime stone grinding mill has no bearings but the high-hardness wear-resistant material developed by our company within the grinding chamber, which not only avoids chronic consumption of oil and burnt bearing but also guarantees the continuous and reliable operation of the machine.
11.This equipment is sophisticated and stable. Continuous improvements have been made within the decade since the establishment of our company;the complete machines from its materials, its processing to its assembly , is completely self-produced, which forms as the benchmark for the crushing industry and becomes the one being simulated at domestic market and oversea market.
IV.Flow chart.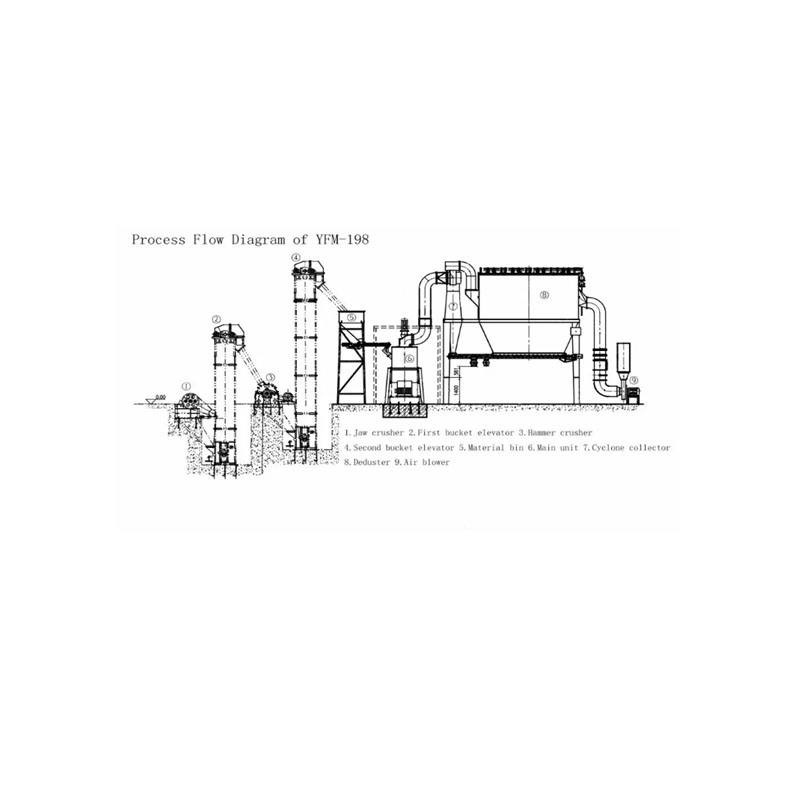 V.Specification.
YFM-86

YFM-198

YFM-318

Feeding materials size(mm)

≤

10

≤

10

≤

10

Material moisture

%

≤

3

≤

3

≤

3

Finished fineness

mesh

325--3000

200--2500

200--2500

micron

3.5--45

5--50

5--50

Output(kg)

500--4000

800--7000

1700--12000




Motor




power




Consumption(kw)

Main motor

75

132

185--200

Classifier

18.5--22

30

45--75

Air blower

45--55

55--75

132

Feeder

1.5--3

1.5--3

3

Discharge screw

3

3

3--6

Air compressor(m3)

1.5--2

2

2

Dimension(mm)

12000*3100*5900

14000*3800*6200

15800*5800*7300

Weight(T)

17

23
Note: The above parameters are tested by calcite for reference only,there might be slight differences regarding to different materials.
VI.Power consumption
YFM-86

YFM-198

YFM-318




Mesh No.




Output kgs/H

Power consumption




Kwh/T




Output kgs/H

Power consumption




Kwh/T




Output kgs/H

Power consumption




Kwh/T

325

6000-6500

30

10500-12000

30

400

5600-6000

35

9500-10500

35

600

2000-2200

50

3800-4200

45

6500-7200

45

800

1600-2000

60

3600-4000

55

6000-6800

55

1250

1200-1600

80

2200-2300

75

3700-3900

75

1500

800-1000

105

1500-1800

100

2500-3100

100

2500

500-700

150

1000-1200

160

1700-2000

160

3000

400-600

170

700-900

180
Note: The above parameters are tested by calcite for reference only,there might be slight differences regarding to different materials.



VII. Main composition.
Part 1: Main unit (Grinding system)
Raw material is fed into grinding chamber via feed port of upper part, then be grinded between rollers and grinding rings in

to powders.

pow

ders are blowed into upper part. Qualified particle goes into powder collecting system through classifier wheel, others fall and be grinded

again.

Part 2: Deduster (Powder collecting system)
In reverse-pulse-jet baghouses, individual bags are supported by a metal cage, Dusty air enters from the bottom of the baghouse and flows from outside to inside the bags. Bags are cleaned by a short burst of compressed air injection. The powder falls into a storage hopper below. This collecting system works with the help of digital sequential timer (PLC) attached to the pulse valves.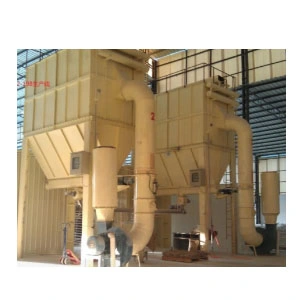 Part 3:

Electric control or PLC system
Adapting domestic top level electric components/or Siemense/Or schneider, after 20 years' testing. Our electric control or PLC system is very easy to operate, fully automatic operation, and one button stop, It's also easily adjust. Buyer only needs
to adjust current and frequency with visible digitals to reach different particle size from 325-3000 mesh.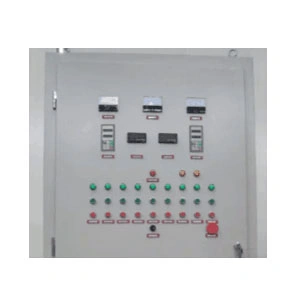 VII.Packing and delivery.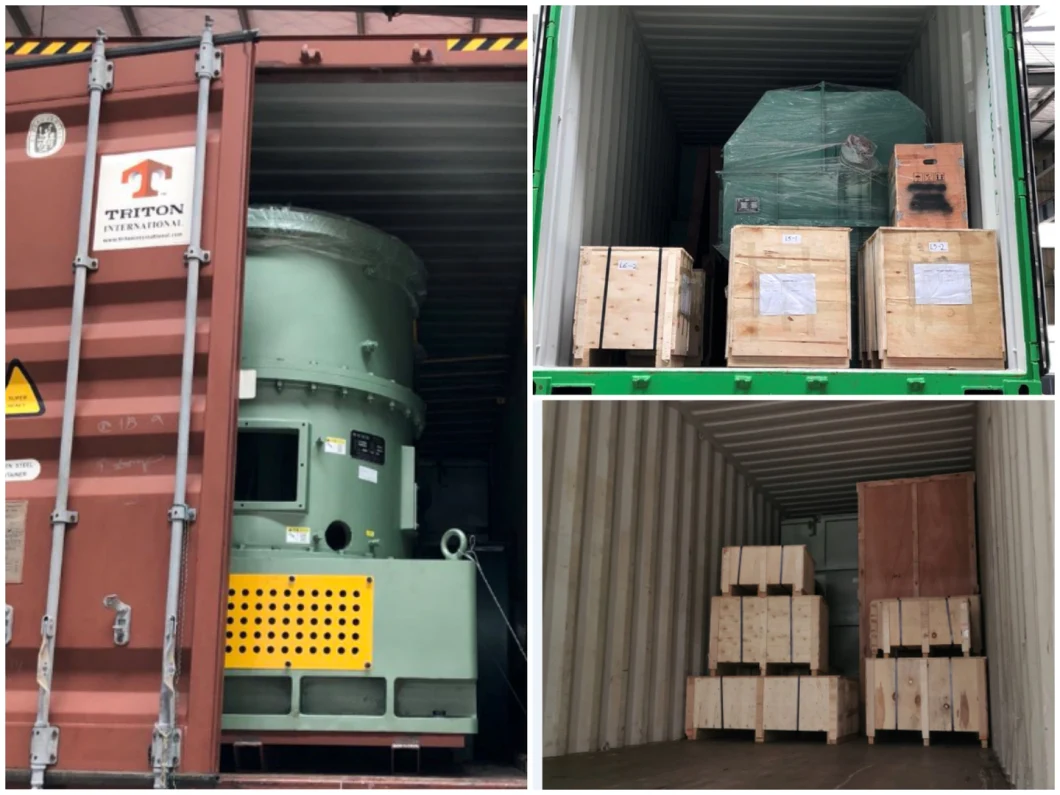 Free of fumigation wooden boxes packing and loose packing with fim. Precise accounting and packing by our technologists, it can bear long distance shipping .