Shredder grain cassava grinding mill machine pulverizer for sale
Liyang Tongfu Machinery CO.,Ltd, which located in Liyang city(the birth-place of wood/feed ring die pellet machine/pellet mill), Jiangsu province, south area of China, is specialized in designing & manufacturing comprehensive range of pellet machines for biomass pellets and animal feed pellets with over 10 years experience.
Owning a strong and professional team, we can offer full scale service to our customers by developing projects from blueprint, customized solution, machinery production to installation and commission of complete wood and feed pellet plants.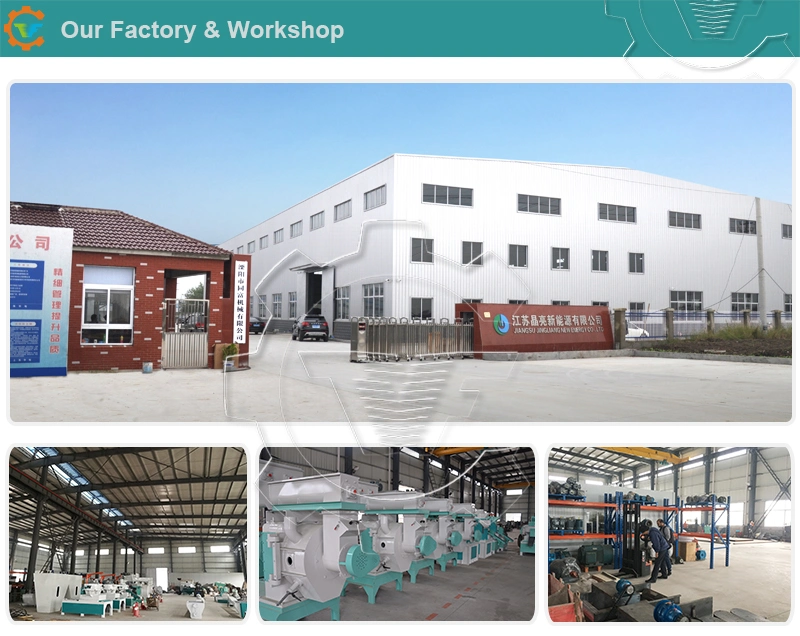 SFSP series shredder is very important in a pellet line,it is widely used in small and medium size feed and food processing industries for raw materials grinding,make preparation for next step of pellet line,our SFSP shredder in three types.
| | | |
| --- | --- | --- |
| Item | Machnery | Apply for raw material |
| Type 1 | wood shredder | wood chips,wood branch,wood shaving,etc |
| Type 2 | feed shredder | agricultural product,like wheat,corn,soybean,cereal,etc |
| Type 3 | EFB shredder | |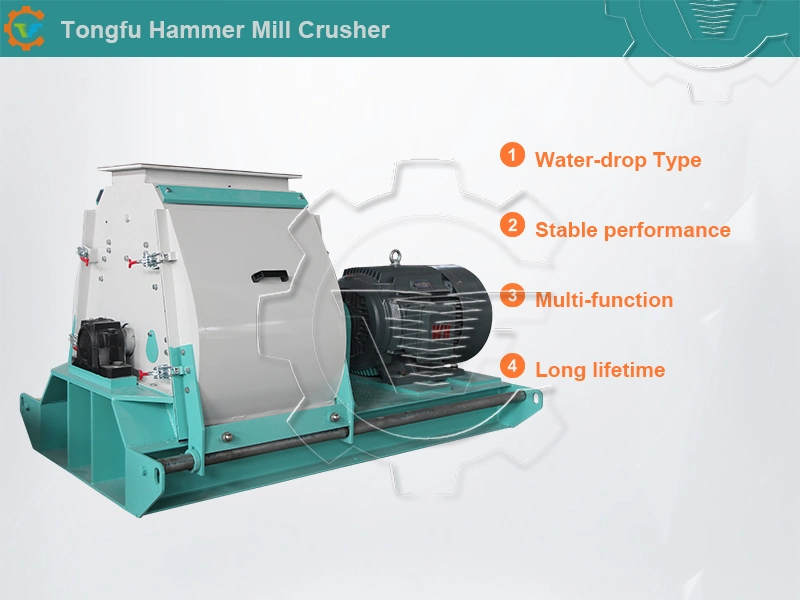 SFSP Series Shredder Features
1. The grinding chamber is of tear circle shape, effectively eliminating the circular flow in the grinding process and getting higher capacity;
2. The Bottom of grinding chamber is fitted with U-shape double grinding structure, further improving the capacity with evener particle size;
3. Rotor passes accurate dynamic balancing test, resulting in low equipment noise and smooth running.
4.Both coarse and fine grinding is realized through adjusting the gap between beater and screen;
5. New type S shape coupling directly connecting driving results in big offset travel and effectively avoid the heating of bearing;
6. Beater blade edge is vacuum-welded by special alloy steel, resulting in long service life;
7. The imported products are used for key parts, resulting in long service life and low maintenance cost;
8. The moving full-wide operation door facilitates maintenance and replacing of beater;
9. It is widely used in various feed mills, oil plants, alcohol plants, citric acid plants, etc.
SFSP Series Shredder Main Data
| | | |
| --- | --- | --- |
| Item | Grinding chamber width | Power |
| 56series | 360/400mm | 22~37kw |
| 60series | 600/800mm | 45~132kw |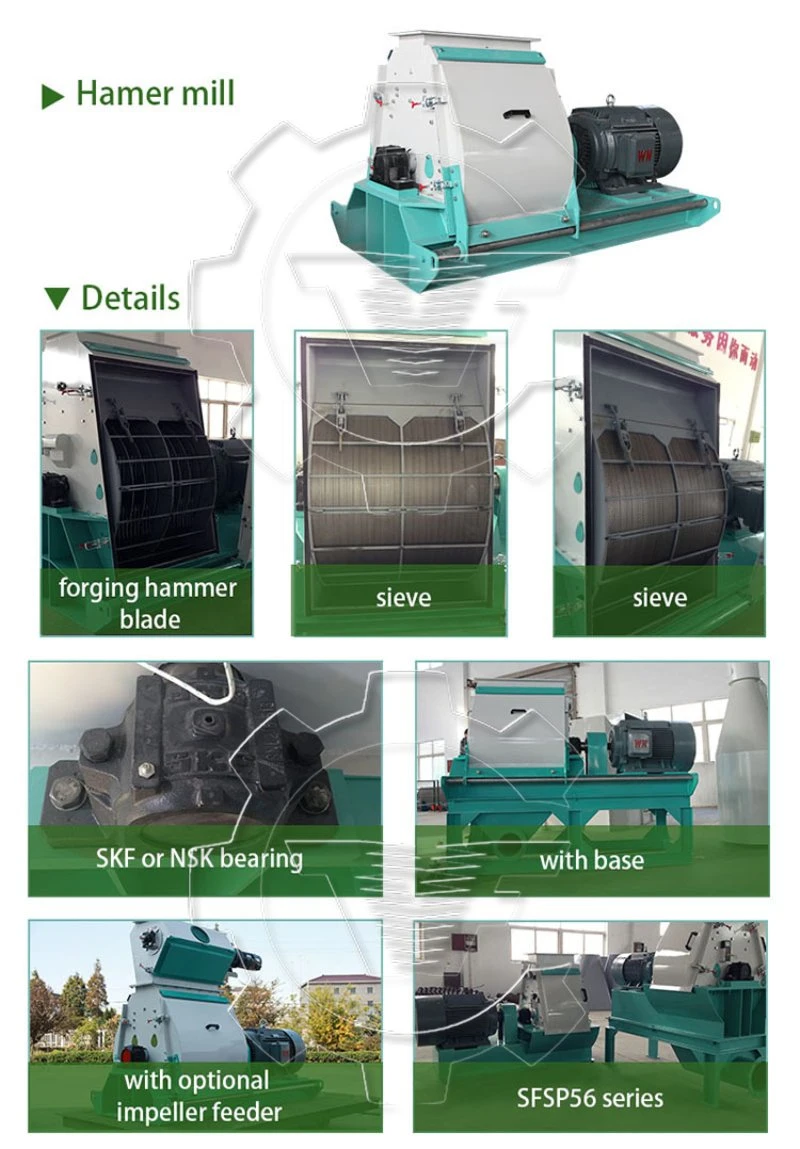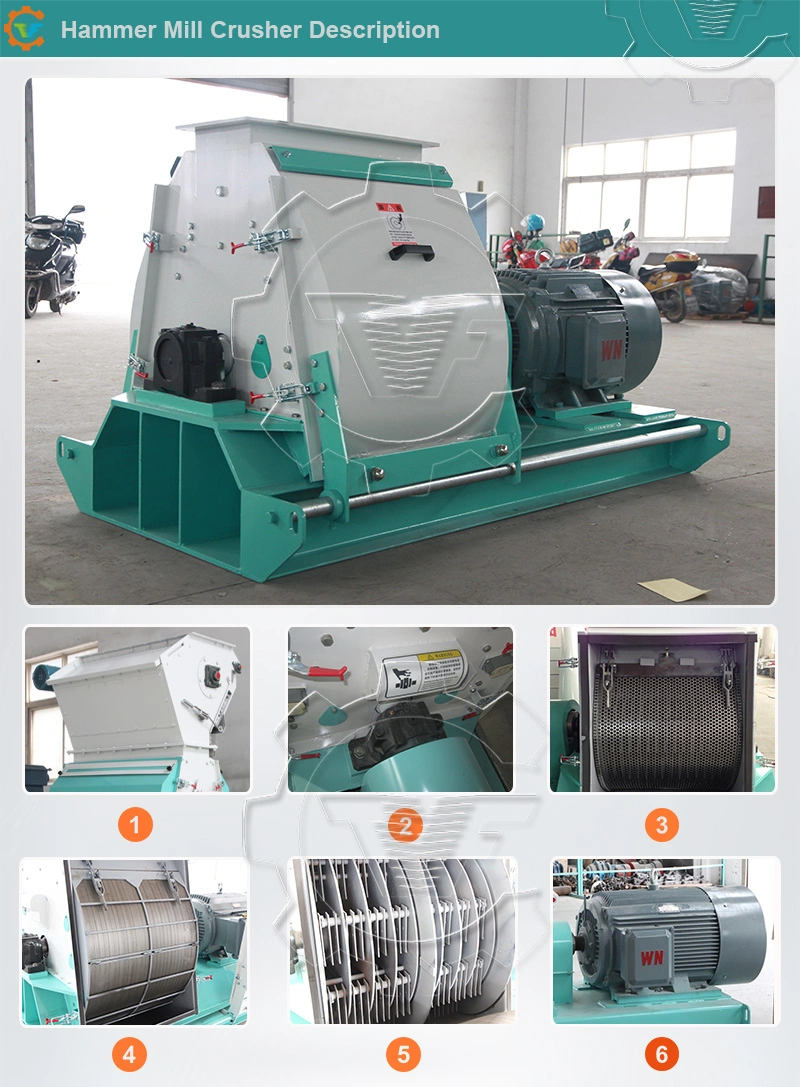 SFSP Series Shredder Structure And Details
1. Impeller Feeder: Impeller feeder mainly used for receiving materials and cleaning iron, and then feeding cleaned materials into the grinding machine.
2. SKF/NSK bearings: By customer's demand, we can install NSK or SKF bearings for you.
3. Screens: The sieves hole size can becustomized by your demand. Good quality steel materials and stable working condition.
4. Sieves Cover: The screen cover is mobile, help to protect screen and can change screens speedy.
5. Hammers: Forge hammers be high quality than normal alloy steel materials, longer lifetime and stable working condition.
6. Main Motor: Normally equiped with China best quality motor WN motor. If customized, we can equip Siemens motor.
SFSP Shredder Application in Animal Feed Pellet Production Line
SFSP shredder is the most important sections of the animal feed pellet production line, our company supply machines and turn-key projects for you.

1. Raw materials receiving and cleaning section
Cleaning the dust and small debris such as metal or stones. Including convoyers, cleaners, magnetic tubes, dust collector, etc.

2. Crushing section
Crushing the raw materials into powder. Including small silos, shredder, conveyors, dust collector, air fan, etc.

3. Mixing section
Mixing different kinds of materials and nutritions. Including mixer, conveyor, etc.

4. Pelletizing section
The most important section of the line, pressing the materials into small pellets. Including conveyors, small silo, pellet mill, belt conveyor, sidewall conveyor, etc.

5. Cooling section
Cooling the high temperature pellets to room temperature. Including counterflow cooler, crumbler, conveyors, cyclone, rotary screens, etc.

6. Packing section
Packing pellets into bags 50kg/bag or 1t/bag, etc. ncluding packing scale and sewing conveyor.

7. Electric control systerm & Accessory equipment
Controlling all the machines in the line, including carbinets and cables, etc.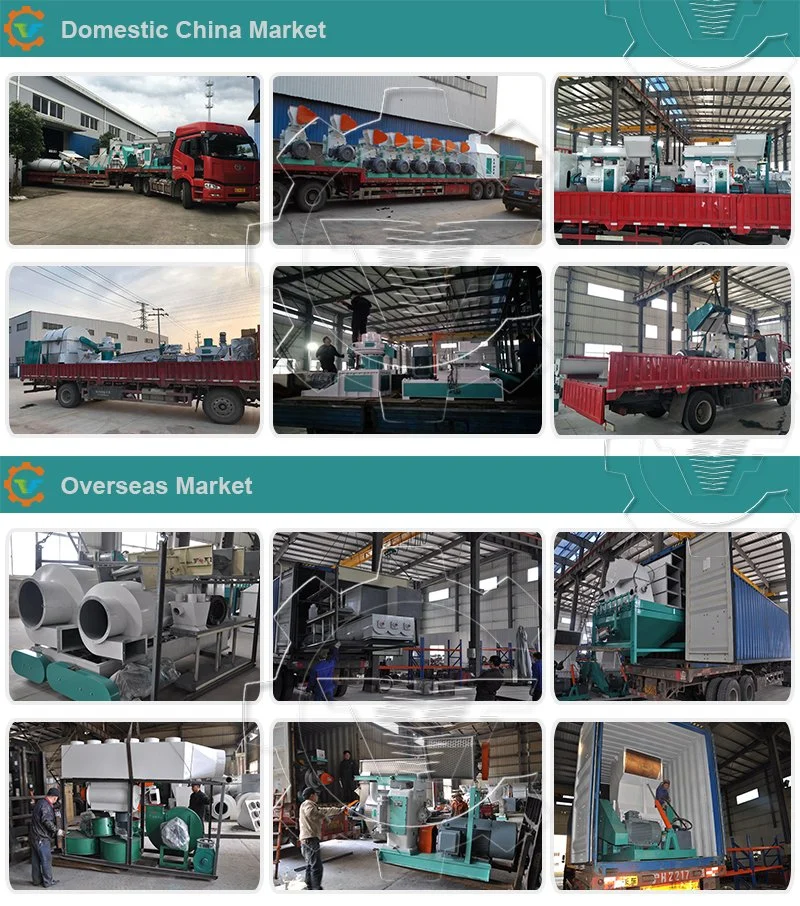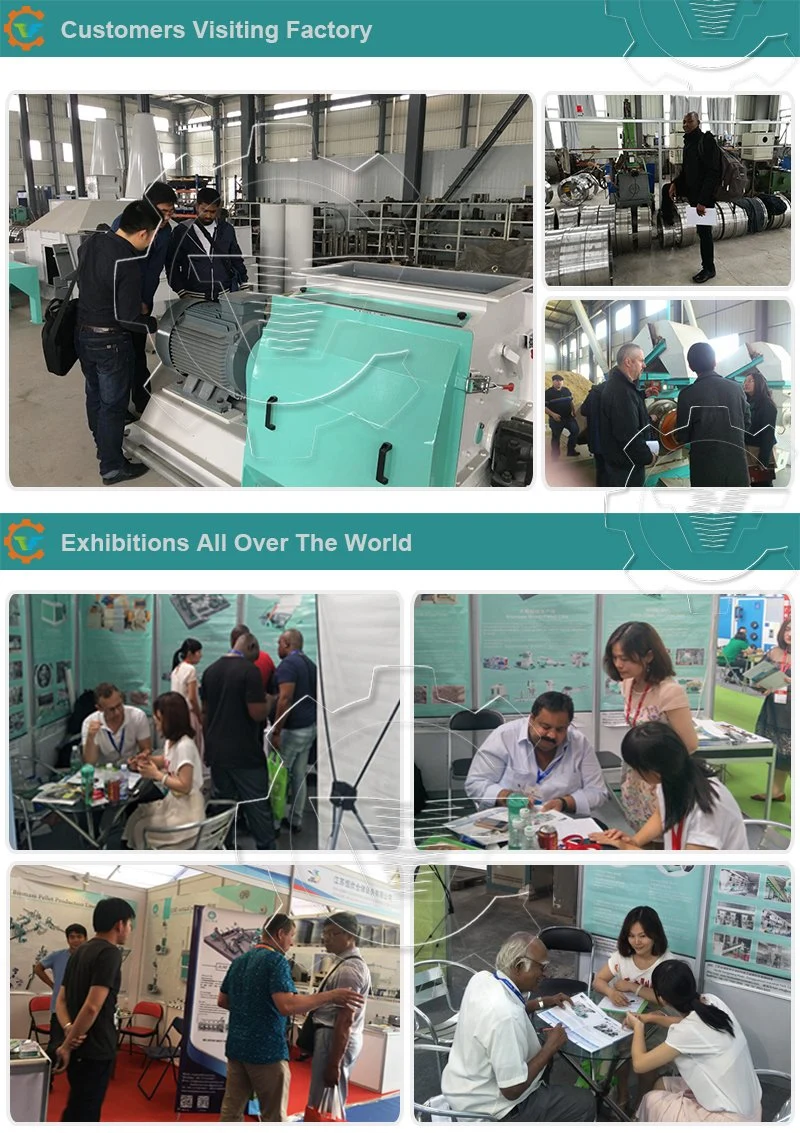 Our Services
1. Warranty time:
One year except spare parts, from the date which the product is qualified commissioning. Any damage except the wrong operation during warranty period is repaired freely. But the travel and hotel expenses should be count on buyer.
2 Commissioning services:
The product's installation and commissioning at the demand side, our engineers will not leave there untill get your agreement.
3 Training services:
Our engineers will train your staff to operate it during the period of installation and commissioning, and they will not leave there until your staff can operate it properly and normally.
4 Maintenance services:
Any malfunction happened, once you enquiry us, we will reply you within 48 hours except the special reasons.
5 Lifelong services:
We provide lifelong services for all the products we sold out, and supply the spare parts with discount price.
Our Status & Future Goals
We plays a leading role in researching and developing shredder equipment. Our complete pelletizing production line is characterized by high automatic degree, reliable performance,simple operation and wide application. During past years, hundreds of trading companies choosing to work with us to expand their abroad market and made great success.
Now, our high quality shredder have been exported to over 30 countries, and numerous plants are installed in Singapore, Malaysia, Vietnam, South Korea, Indonesia, Thailand, Russia, Turkey, Ukraine, Portugal, Hungary, Sweden, Bulgaria, Latvia, Canada, Spain, New Zealand, etc.
Our future goals to be the first grade supplier of pelletizing equipment and hammer mill. We are doing this and surely will get it. Our machines will spread around the world and we need you to help us and join us.