Product Description
Fine Micron Powder Cyclone Grinding Classifier Mill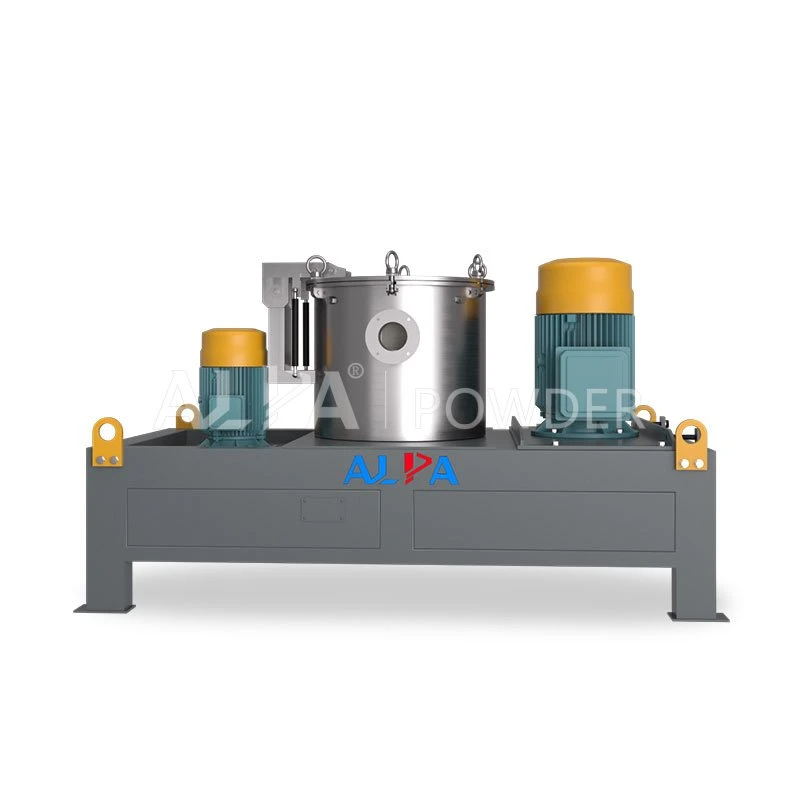 FEATURES AND ADVANTAGES
Available D50:2~45μm.
Classifying wheel is Vertical installation .
Two-In-One shaft of grinding disc and classifier wheel, compact structure.
Especially suitable for ultra-fine grinding in pharmaceutical, food and chemical industries.
Small occupation. No dead angle, easy disassembling and cleaning.
Lower installation power, wide application, high cost-performance.
Different types of grinding disc (pin, hammer, teeth or others) are used based on characteristics of materials to obtain different grinding forces and improve grinding efficiency.
Key parts like the hammer, gear ring and classifying wheel are made of ceramic such as aluminum oxide, zirconium oxide or silicon carbide, ensuring non-contact with metal throughout the grinding for high purity of the final product.
Grinding is in closed system, low dust and noise, clean and environmentally friendly production process.
PLC control system, easy operation.
Low noise design.
The motor can be connected with a belt to increase the speed and break through the problem of high-speed motors without the well-known motor brand.
Can be used in series with multi-stage classifiers to produce products with multiple sizes at one time.
Optional explosion-proof design, meet the ultra-fine grinding processing requirements of flammable and explosive oxide materials.
High-temperature, low-temperature, normal-temperature, airtight cycle, Inert gas cycle designs are available, for different grinding requirements of different materials.
WORKING PRINCIPLE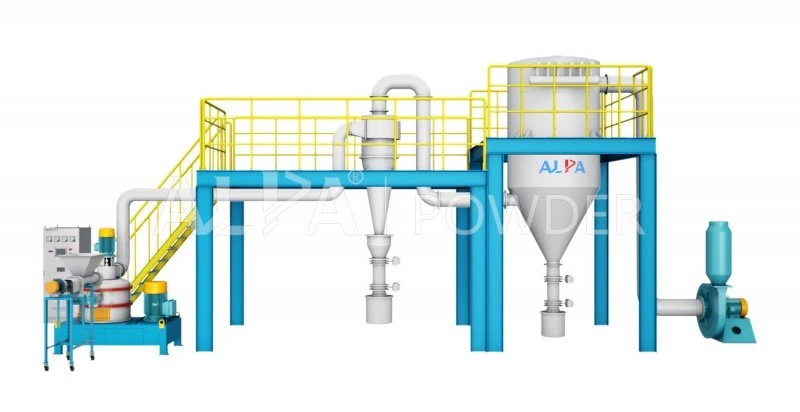 The material is evenly fed into the grinding chamber by the feeding system, strongly impacted by the high-speed rotating grinding disc. At the same time, it is subjected to centrifugal force and collides with the grinding ring gear, and is subjected to various comprehensive forces such as shearing, friction and collision to finished grinding. The grinded material moves to the classifying zone with the airflow. The classifier is adjusted by frequency conversion, separates the coarse and fine materials, the product that meet the fineness requirement enters the cyclone collector and the dust collector with the airflow, and the coarse powders return to the classifying zone, secondary grinding.
TECHNICAL PARAMETERS
parameter /
model
CSM-
28 0V
CSM-
350V
CSM-
510V
CSM-
760V
CSM-
1000V
CSM-
125V



Motor(kw)

Grinding Table

7.5

11~15

22~30

45~55

90~110

132~160

Classifier Wheel

1.5

2.2

4~5.5

7.5~11

15

18.5~22
Feeder
0.55~1.1

Rotation Speed
(r/min)

Grinding Table

7500

6200

4200

2800

2100

1700
Classifier Wheel

500~
4500

500~
4000

400~
3000

300~
2500

250~
2000

200~
1600
Feeder
20~100
Max. Air Flow
(m3/h)

700

900

3000

5400

10000

15000
Product Size
(mm)

5~300

10~300
Production Capacity
(kg/h)

2~100

10~400

15~600

30~1200

60~1500

300~3000

Note: The production capacity is closely related to the particle size, specific gravity, hardness, moisture and other indicators of the raw materials. The above is only for selection reference.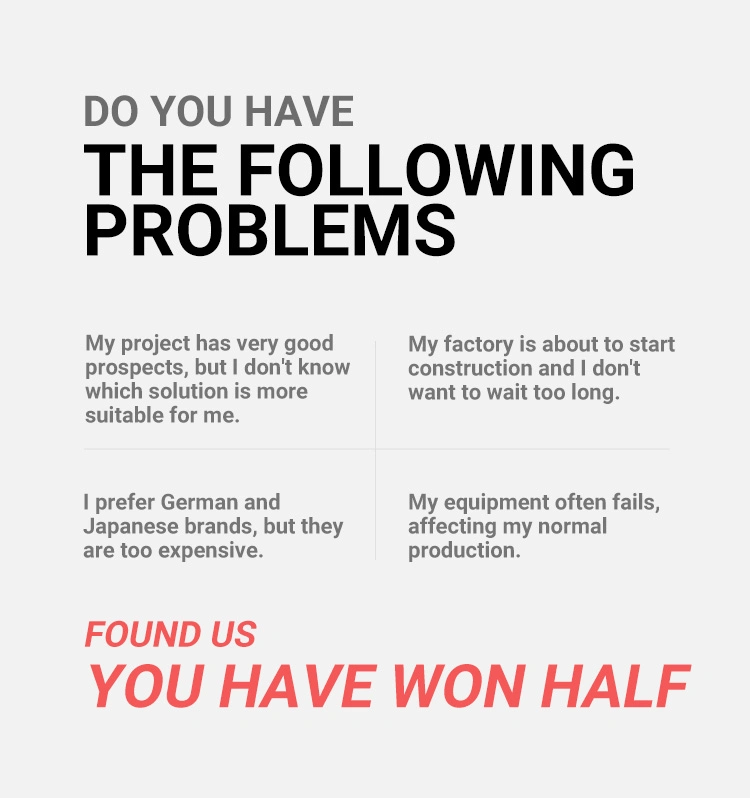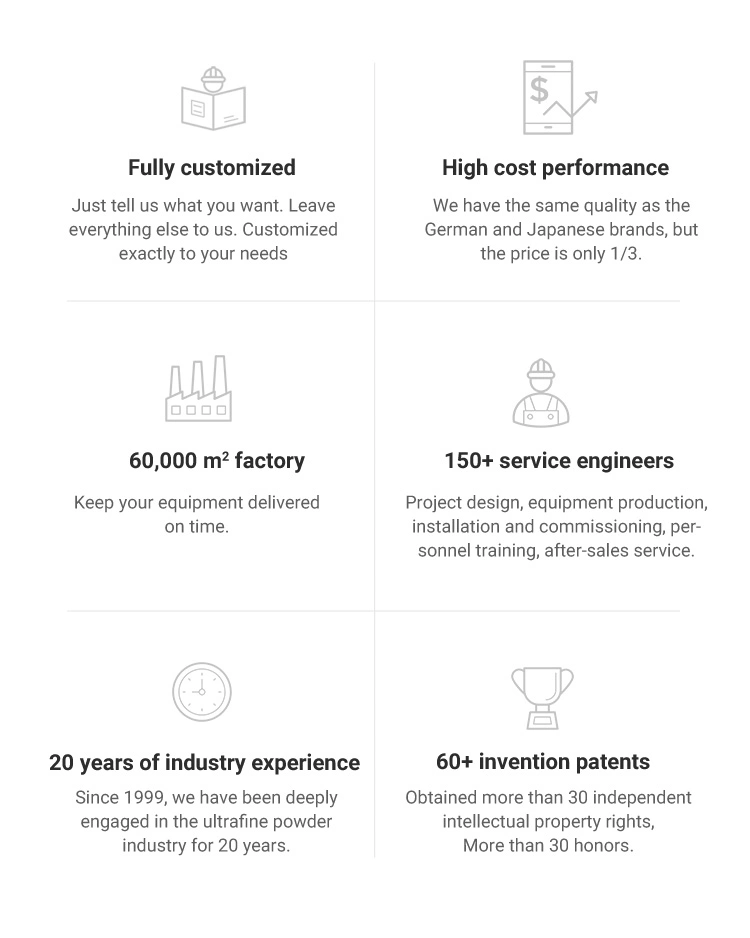 Shandong ALPA Powder Technology Co., Ltd.
(abbreviation: ALPA / Equity Code: 171033)
THE WORLD'S LEADING SUPPLIER OF
ULTRA-FINE POWDER SOLUTIONS