Mineral Stone Grinding Machine/Powder Making Mill /Pulverizer/Gold Ball Mill/Grinding /cementBall Mill/Grinder mill for Calcium Carbonate/kaolin/dolomite/marble
Basic information
| | | | |
| --- | --- | --- | --- |
| Type | High Pressure Raymond Mill | Condition | new |
| Capacity | 1-20tph | Motor type | AC motor |
| Raymond Mill Dia | 260-440mm | Warranty | 1year |
| Grinding mill Finished size | 35-1000mesh (0.613-0.033 mm) | Application | Limestone,dolomite…. |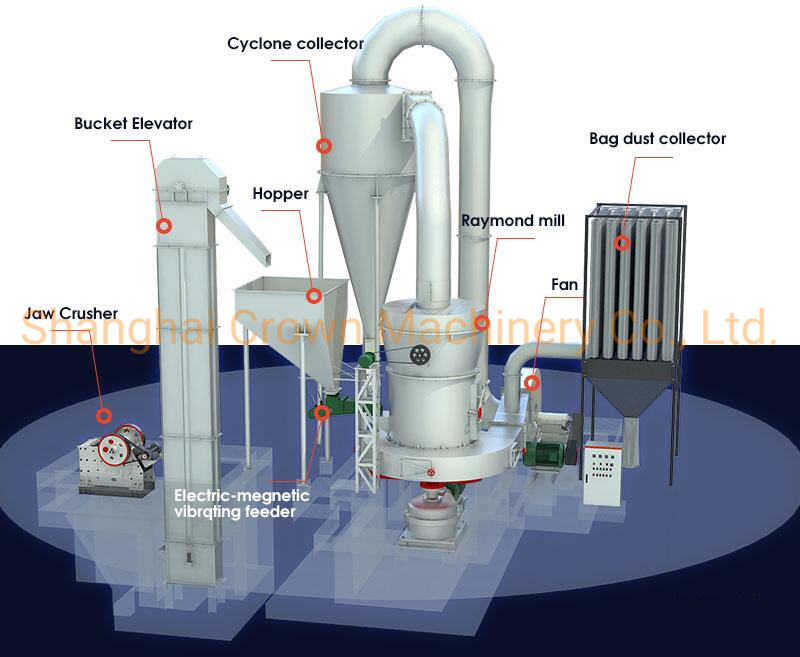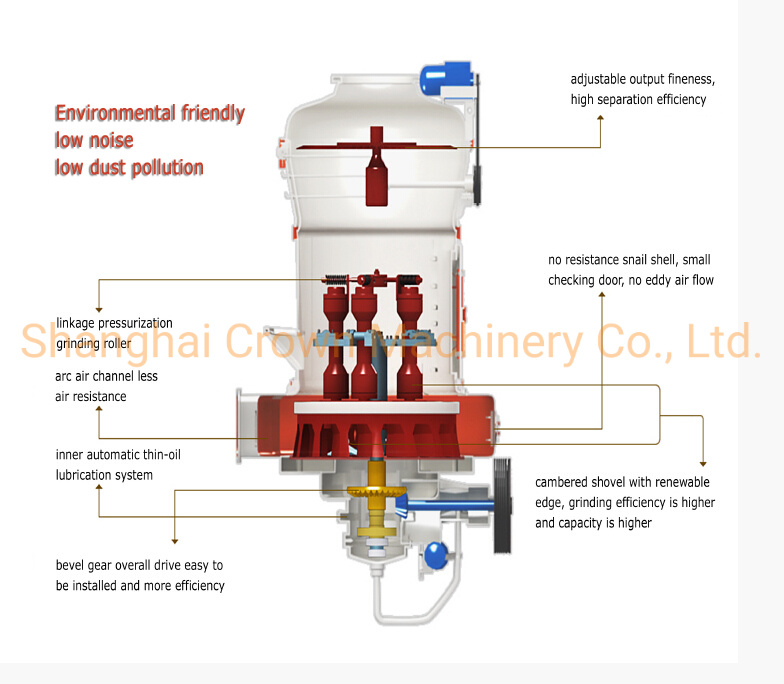 Introduction
Limestone Raymond mill widely used in grinding equipment of mine, cement, chemical industry, is one of the important equipment of non metallic mineral deep procession. Since its strong stability,adaptability and high cost performance it has popularized in non metallic mineral processing field. Applied in grinding various non plastic ore, mineral soil,metallic oxide, chemical composition etc. which Mohs hardness not more than grade 7,humidity less than 6% non flammable and combustible material such as speckstone, dinas rock, graphite, fluorite, magnesia stone, bentonite, kaoline, pottery clay etc.
Advantages of Raymond mill high pressure suspension mill for stone powder
1. Higher output. Its output increases by 10%-20% comparing with Raymond mill under the same power condition.
2. Larger range of final fineness. Size of final product can be 0.613mm (30mesh) -0.033mm (425mesh). Some can reach the fineness of 0.013mm (1000 mesh).
3.Good dust control. High Pressure Suspension Mill meets the requirement of national dust-dump standard.
4.Easy to operate. The whole system is combined by some independent systems, and the cohesion between the systems is good.
5. Excellent sealing. The multi-class seals are adopted to keep the grinding equipment tight closed.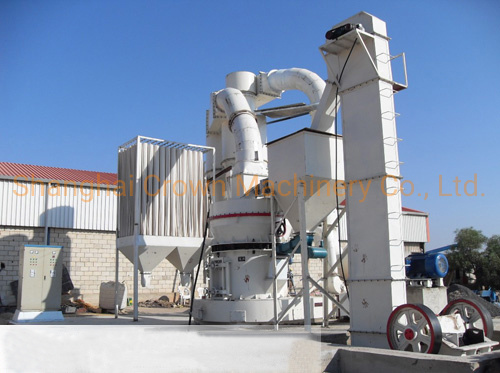 Final powder is used widely painting,PVC,well dring,papermaking,chemical,making-up etc...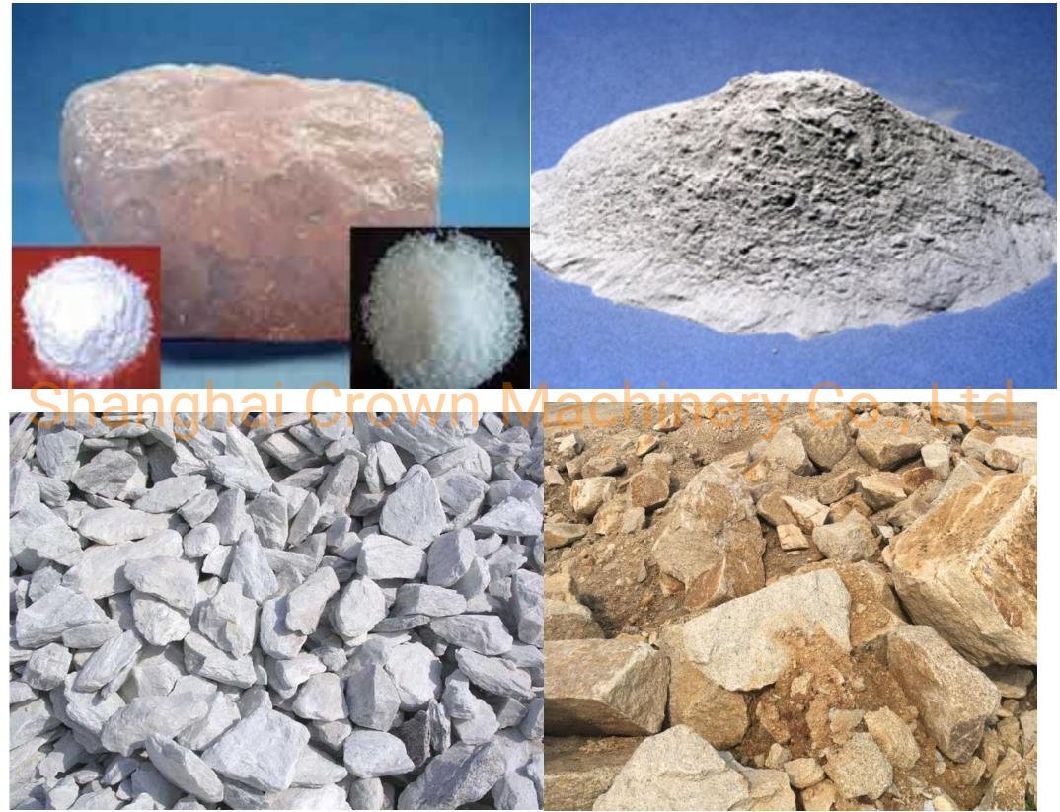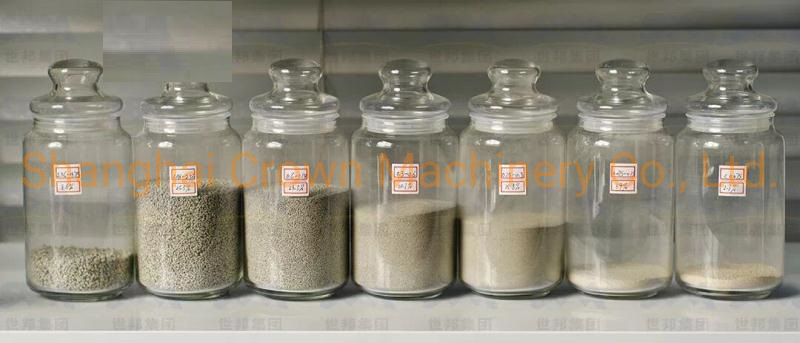 Features of Raymond mill high pressure suspension mill for stone powder
1. High capacity, 1-20t/h.
2.The fineness can be adjusted between 50 and 325 mesh (315-45 micron).
3.Fixed with 1000-1500kg pressure springs, and its capacity increase 20% to 30%; When the grinding roller and grinding ring, stable capacity and fineness can be guaranteed.
4. Easy maintenance, simple structure, low investment
5.Environment-friendly. Application of pulse bag filter & muffler greatly alleviates dust pollution and noise.
6.Advanced intelligent speed control device. Convenient adjusting, uniform particle size.
Technical data
Model

Roller

Ring

Feeding Size(mm)

Finished Size(mm)

Motor Powder(kw)

Capacity(t/h)

Overall Dimension(mm)

Quantity




(piece)

Diameter




(mm)

Height




(mm)

Inner Diameter(mm)

Height(mm)

YGM65

3

210

150

650

150

15

0.613-0.033

15

0.4-1.8

4100*3300*4500

YGM75

3

260

150

780

150

15

0.613-0.033

18.5

1--3

4300*3500*5100

YGM85

3

270

140

830

140

20

0.613-0.033

22

1.2--4.6

5300*4100*5200

YGM95

4

310

170

950

170

25

0.613-0.033

37

2.1-5.6

7100*5900*7900

YGM130

5

410

210

1280

210

30

0.613-0.033

75

3-9.5

9200*7250*9700

YGM160

6

440

270

1600

270

35

0.613-0.033

132

8-16

12500*5700*8350

YGM190

7

460

280

1900

280

35

0.613-0.033

185

10-35

11470*6940*9580
Why Choose Raymond mill high pressure suspension mill for stone powder?
1
. Much better than traditional grinding mills
YGM series high pressure suspension grinding mill is upgraded from traditional Raymond mill, which make capacity 20% higher than Raymond mill.
2. Wide range of applications
Our pany supply more han 200 sets YGM series high pressure mills to customers and distributors ,
YGM series high pressure mills widely used for grinding calcium carbonate, talc, gypsum, feldspar, barite,pyrophyllite,dolomite,kaolin,coke,etc.
3. Adjusted output size:
50 mesh-425 mesh(35-200 micron ).Output size is adjustable by adjusting running speed of classifier.
4. High Capacity and Lower power consumption:
YGM95 high pressure suspension grinding mill calcium carbonate

Fineness (mesh )

Capacity(ton / hour)

Power consumption for one ton powder (kwh /ton)

Total line motors rated power:82.5KW

80-120

6-5.5

13.7-21

180-200

5-4.5

23.2-25.7

300-325

3.5-3

33-38
5. Less Land Covering Space & less labor required :
One setYGM95 high pressure suspension grinding mill installation cover 48 square meter space, 8 meter height . Total production line need 2-3 workers, one for raw material feeding , one for operation and maintenance , the last one for final packing .
6. Long lifecycle of wearing parts:
Our wearing parts made by high Mn material,which is designed by our technical department with Bao Group together. The normal wearing parts includes ring, roller, scraper knife and scraper knife base , normally for grinding calcium carbonate, 10 hours /day, 30days/month, they can work 12-18 months.
Our Client's Site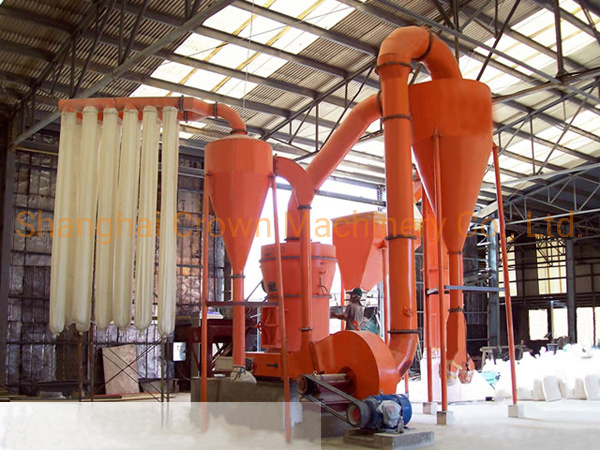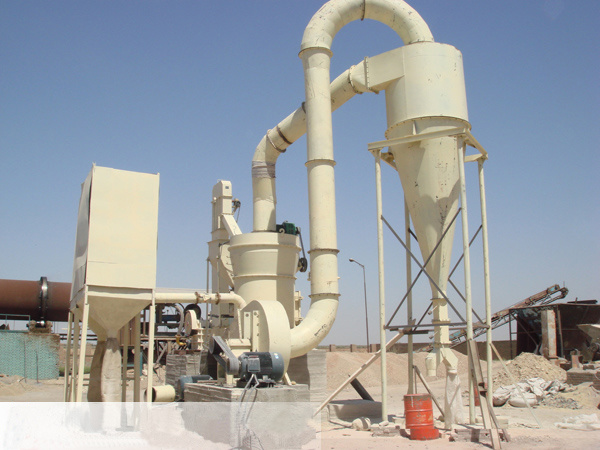 Client's Site overseas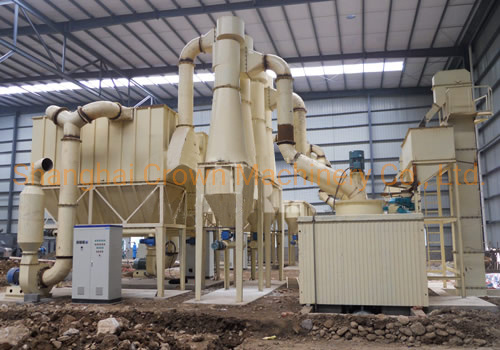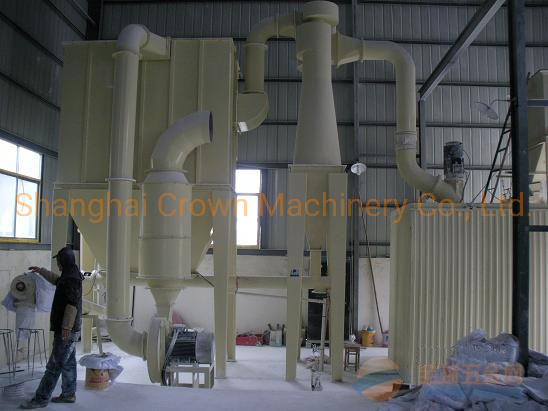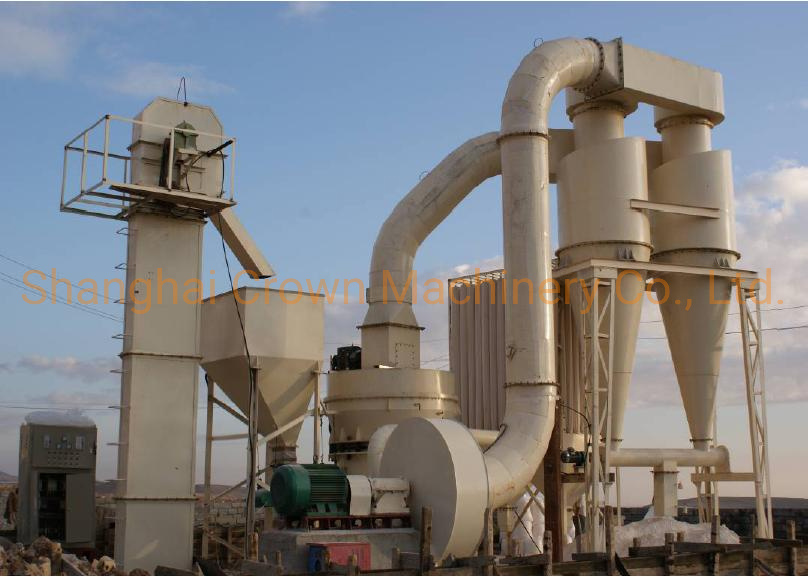 Our Factory