Multifunctional feed hammer mill, hammer grinder, hammer crushing machine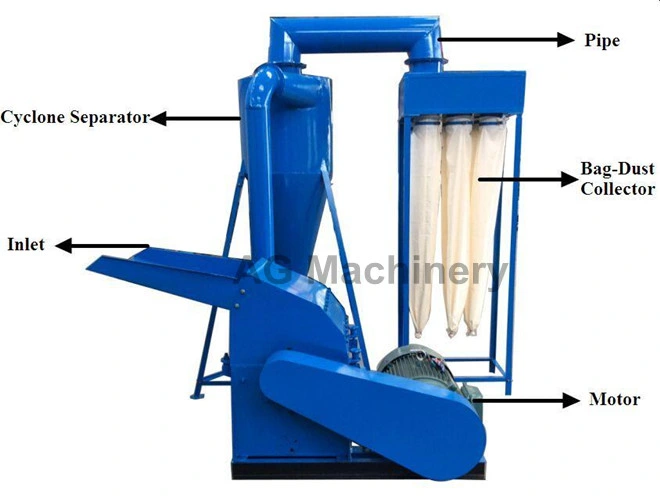 Features:
1. Compact structure, small size, light weight; with steel structure,
3. Easy to operate
4. Safety and reliable: special device to stop the feeding knife accidents,
5. Support various power devices: electric motor, diesel engine, and tractor
6. High quality steel Blades, super wear resistant
7. Adjustable output sizes: accordingly by manual method
8. Better feeding device: new design feeding roller added before pressing roller
Parameters:
Model

Power (kw)

Capacity
(straw grinding)
Weight
(kg)
Dimension
(mm)

320

5.5 kw

300 -350

260

900 x 500 x 800

420

7.5 kw

400 -500

350

1100 x 550 x 850

500-28

15 kw

600 -800

450

1250 x 650 x 1000

500-40

22 kw

900 -1000

750

1400 x 780 x 1250

500-50

30 kw

1000- 1500

900

1600 x 850 x 1350

500-60

37 kw

1500- 2000

1300

1750 x 900 x 1550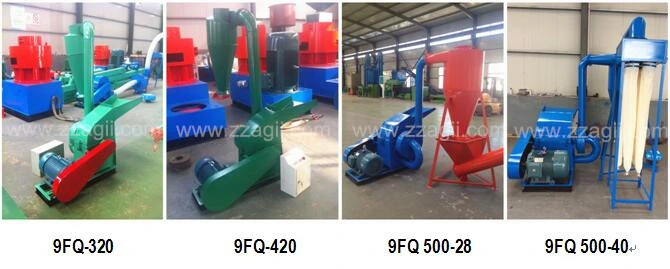 Introduction:
The 9FQ series hammer mills are able to crush both forestry and agricultural material, brittle and fibrous material, such as bamboo, stalk, grass and shrub. A screen with cutting edges is used to control the particle size. If the size is larger than screen, the bigger particles will be sent back to be grinded again until they can get though the screen.
Our hammer mill is the special milling equipment for materials of < 50 mm (diameter),< 300 mm (length), such as tree trimmings, wood pieces, crop stalks, rice husk, cotton stalk, cottonseed skins and so on. This hammer mill contains some rotors which are mounted by many hammers.
The hammers swing following with the rotor at a high speed. And then the materials fed into a feed hopper are shred by the hammers. At last the materials are expelled out and sieved by the exhaust fan and screen. The size of the grinded material depends on the size of screen and the rotation speed.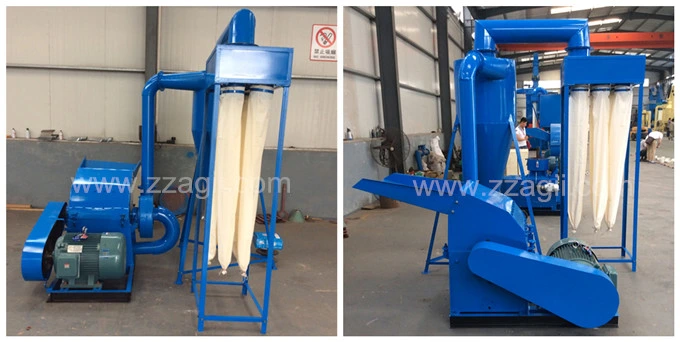 Raw Materials Ranges of Feed hammer mill:
Grain, straw, corn, rice husk, wheat, corn straw, corn stalk, corncob, beans, maize, spice, herb, wood chips, tree branch and various biomass etc
Applied field:
1) Ideal helper of the family farmed cattle, sheep, poultry, horse, rabbit and etc
2) This series of feed hammer grinder have advantage of compact structure, strong and durable, safe and reliable, easy operation.
3) Low noise & vibration, high Efficiency and low energy consumption, etc. double discharge to connect material and convenient to use
4) The spare part of hamm mill machine completely adopt high quality material, outsourcing parts
adopt domestic optimal products, the whole machine quality is reliable, long-lived.