1000x800mm crushing equipment for ores description:
1000x800mm crushing equipment for ores is engaging in crushing various rocks and stones with comprehensive strength not higher than 320 MPa into fine and micro fine powders, is widely used in metallurgy, mining, chemical, cement, coal, sand-making, coal gangue, construction, refractory materials and ceramic industries.

1000x800mm crushing equipment for ores working principle:
1000x800mm crushing equipment for ores mainly consists of frame, rotor, support iron and grate bars. The frame is divided into two parts: Upper part and lower part, which are welded by steel plates after being cut. Liners made of high manganese steels within the frame can be replaced after being worn out.
The rotors consist of turn plates, pin shafts, and hammers which are grouped regularly in the main shaft. The main unit drives the main shaft through the motor and triangle belts, which, in turn, rotates the rollers. Large materials entering the crusher through the feed inlet are firstly crushed by the high-speed hammers, and then thrown fiercely to the support iron for further crushing.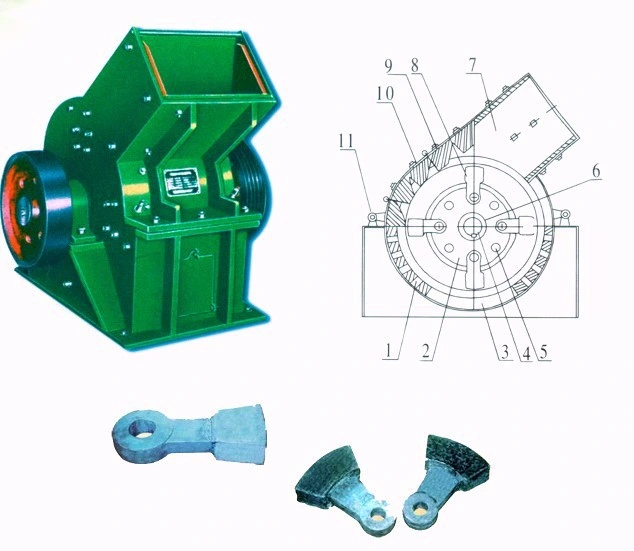 Qualified materials crushed will be screened out and exit from the gap of the grate bars while the unqualified will be left in the crushing cavity to be further hammered and ground until reach the standard size. The size of the final product can be adjusted by changing the grate bars. The gap between the rotors and the grate bars can also be adjusted according to different requirement. To avoid the plugging of the crusher, the proportion of water for the crushing materials is no more than 20%.
1000x800mm crushing equipment for ores features&advantages:
1. High capacity and low power consumption;
2. Uniform particle size with high crushing and crushing ratio;
3. Simple structure; Easy operation
4. Low investment.
5. Perfect services.
1000x800mm crushing equipment for ores Packaging & Shipping
Packaging: Conventional Packaging suitable for long distance transportation.
Shipping: 10-30 working days after recieving the deposit of the devices.
1000x800mm crushing equipment for ores manufacturer information:
Shanghai Clirik Machinery Co., Ltd. Is located in Pudong New District, Shanghai, China, which is specialing in manufacturing grinding mills, Raymond mills, crushers and other associate accessories with decades experience. We have strong and professional technical and sale team. Customers' satisfaction is our final and forever pursuing.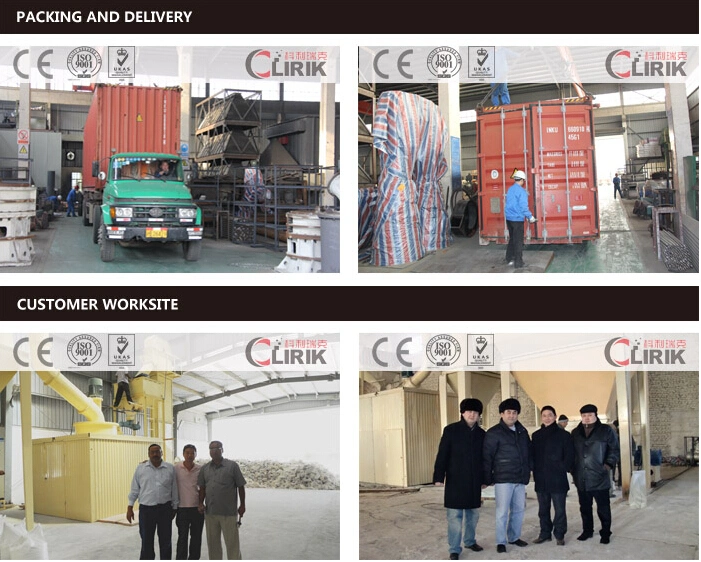 More details we needed for sending you more suitable quotation,
1. What kind of raw material do you want to process?
2. What is the capacity per hour do you need?
3. What is the raw material input size?
4. What is the finished size you required?
Any inquiries of our 1000x800mm crushing equipment for ores will be highly regard and we will give you the best quotation ASAP. Your satisfaction is our final ann forever pursuit.

Please fill in your need products and your message and do not forget email and/or phone if you like to be contacted.
We are looking forward to your inquiries!
Type
PC400x300
PC600x400
PC800x600
PC1000x800
PC1200x1000
Rotor Diameter/mm
400
600
800
1000
1200
Rotor Width mm
300
400
600
800
1000
Rotor Speed
r/min
1100
1000
960
980
650
Max feeding size mm
<100
<220
<350
<400
<400
Finished size
mm
0-10
0-20
0-25
0-25
0-25
Capacity/ t/h
3-8
8-15
15-45
40-60
120-200
Power KW
11
18.5
45
75
110-132
Hammer Number/pieces
16
20
28
30
60
Weight/t
0.5
1.6
4
6.5
13.1
Dimension L*W*H/mm
855*795*860
1150*1095*1230
2360*1490*1415
3072*1720*2121
5000*2500*3100